JTF Not Interested In Militant Leader's Surrender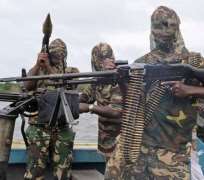 SAN FRANCISCO, May 17, (THEWILL) – Government troops engaging a Niger Delta militant group today said it would not accept the militia's offer to surrender arms in Nigeria's oil bed.
The Joint Task Force (JTF), also called Operation Restore Hope said the militant group known as the Niger Delta Liberation Force (NDLF) was not in a position to determine the terms of surrender to the federal government. The JTF added that the group must follow international conventions of surrender if it wants government to take its offer seriously.
Recall the group had in a statement Monday said it was no longer interested in the arms struggle against government troops thus giving credence to reports that its leader 'General' John Togo may have killed in fierce fighting in the wee hours of Monday.
The militant group which had initially accepted the government's amnesty deal made a U-turn following disagreements over the sharing of pecks of the deal.
However, making the JFT's position public in a short statement today, its spokesman, Lieutenant-Colonel Timothy Antigha said, "Surrender cannot be declared in the cyberspace or on the pages of newspapers. If John Togo and his co-travelers are serious about surrender, they know what to do. Until that is done, any news of surrender is seen by the JTF as diversionary and a decoy, and should be disregarded."
The camps of the NDLF in the Burutu Local Government Areas of Delta State has been severely pounded by government troops in the last few days.
It is however unclear whether John Togo was actually killed during the fire fight that ensued.