Irish Dissidents In London Bomb Threat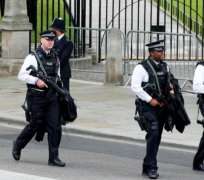 Irish republican dissidents have issued a coded bomb threat for central London, Scotland Yard has confirmed.
Security has been tightened in the capital after a "non-specific" threat was issued to authorities on Sunday night.
A Scotland Yard spokesman said: "A bomb threat warning has been received relating to central London today. The threat is not specific in relation to location or time."
Londoners have been urged by police to go about their business as usual but to look out for "unusual activity or behaviour".
A security alert in The Mall, which leads to Buckingham Palace, closed the road this morning after an officer spotted "something suspicious" at 4.20am.
A suitcase, found near Trafalgar Square, was also destroyed in a controlled explosion.
The threat comes on the eve of the Queen's historic visit to the Republic of Ireland, the first by a British Monarch since its independence in 1921.
Security analyst Crispin Black told Sky News that dissident republican groups do not have as much power to commit acts of terrorism outside of Ireland.
However, he conceded: "This is a reminder they've got the ambition, the aspiration to do it."
Explaining the code word system, Mr. Black said today's events had a very "retro feel", harking back to the height of the dissident republican movement in the 1970s.
Terror groups would use an intermediary to let the police know a code word, so that when a bomb threat came through, they would know to take it seriously.
"It is a kind of macabre dance between the authorities and the terrorists," said Mr. Black.
Lord West Urges Calm
Home affairs correspondent Mark White said: "The use of a coded warning takes this alert well above the norm.
"Every day the police respond to security alerts which turn out to have been false alarms with good intent.
"But here is seems an individual or a group with specific knowledge of the dissident republican coded warning system has called to make a bomb threat.
"The police cannot afford to do anything but treat this with the utmost seriousness."
Tension is also running high in Dublin, where 30m euros has been spent on security for the visit.
Sky's David Blevins, in Dublin, said: "Dissident republicans have not only demonstrated their capability in recent days, not least through the murder of Police Constable Ronan Kerr, but by publically stating their intention to ensure the Queen feels unwelcome here in Ireland.
"I suppose they could to that by staging an attack here in the Irish Republic, north of the border in Northern Ireland or elsewhere in the United Kingdom."
:: Anyone wishing to report unusual behaviour or activity is urged to call the anti-terrorist hotline on 0800 789 321. But in the event of emergency, police ask the public to call 999.
SKY News.