Militant Leader Togo's Rumoured Death Forces Group To Surrender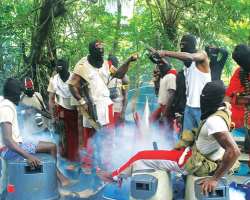 SAN FRANCISCO, May 16, (THEWILL) – Following reports that the wanted leader of militant group in the Niger Delta, John Togo was killed in the wee hours of Monday during a gun fight in the creeks of Delta State between his fighters and troops of the Joint Task Force (JTF), his Niger-Delta Liberation Force (NDLF) has issued a statement alerting government of its intention to surrender.
But the JTF through its spokesman, Lieutenant Colonel Timothy Antigha has said the rumour of his death and the group's move to 'surrender' may be a ploy by the militant leader to get some break to regroup.
"Togo was busy building new camps, rearming and recruiting fighters. It could be a decoy going by his antecedent," Antigha stated.
The JTF spokesman told THEWILL he is unable to confirm whether indeed the notorious Togo had been killed.
The e-mail statement issued by the NDLF via its spokesman, Mack Anthony said the group has decided to "end the last battle, surrender and abandon Israel Barracks.
"We have fought a good fight. This is dawn of a new day. Nigerian army will make a great historic diary about NDLF soldiers led by General John Togo and things fall apart. We are aware JTF is still counting their monumental losses just as NDLF counts its losses in the battle. NDLF gave JTF a great fight. The world has known that the Niger Delta problem is still unresolved, despite federal amnesty. This is much like a speech of a fallen hero in battle with tears and heavy face.
"Today, we hereby declare that the Joint Task Force (JTF) has won the final battle in the creek. Though, the war is not over yet in Niger Delta. People of Niger Delta shall win the final war one day against criminal injustice and marginalization over 50 years of forcefully taking our God-given blessings of oil and gas wealth from the people to build distant rocky villages in the north to modern cities, leaving the people of Niger-Delta in abject poverty and penury. The future battle may not be with NDLF or General John Togo with arms and bombs again, except justice and fair play reign in Niger Delta."
The group hailed President Goodluck Jonathan for benefitting from the struggle of the Niger Delta and urged residents of Burutu communities to return to their homes.
Anthony ended the statement saying, "Once again, by this notice, we appeal to all fleeing communities as a result of the impasse between JTF soldiers and NDLF soldiers to return to their various homes as the war is over with President Goodluck Jonthan elected as president in the 2011 presidential polls."