Nigeria, Exxon In Dispute Over Oil License Renewal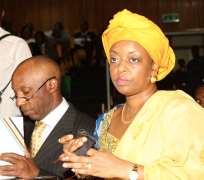 Nigeria's state oil company said on Monday Exxon Mobil has until Thursday to express its interest in three large oil-drilling licenses that the U.S. energy firm says it has already been granted.
Exxon says it signed agreements in 2009 with the Nigerian government for the long-term renewal of licenses OML 67, 68 and 70, which it operates as part of a joint venture with state-run Nigerian National Petroleum Corp (NNPC).
The Nigerian government has said Exxon needs to express an interest in acquiring licenses for these blocks.
"The Nigerian government has given Exxon seven days to express an interest in these licenses. Those seven days expire on Thursday," an NNPC spokesman said.
The disputed blocks are situated in the shallow water creeks of the Niger Delta and are some of the largest oil-producing assets in Africa's largest energy industry, with a combined capacity of more than 500,000 barrels per day.
"MPN (Exxon), as operator, strongly maintains that the NNPC-MPN joint venture's long-term rights in those leases are entirely valid and legally binding," Gloria Essien-Danner, Exxon Nigeria executive director, said in a statement.
"Accordingly, MPN will vigorously protect the rights that it acquired in 2009," she said.
Exxon said it would work with the government to resolve any "confusion" over the leases.
Delays to wide-ranging energy reforms mean several expired drilling licenses dating back as far as 2008 have not been renewed with foreign oil companies, including Royal Dutch Shell.
The Nigerian government has been reluctant to sign new deals until the Petroleum Industry Bill (PIB), which is likely to increase royalties and taxes, has been passed into law.
But the ambitious reforms have been subject to numerous delays and amendments, making the details of the final draft unclear. Oil executives have said billions of dollars of investment are on hold until there is clarity.
Nigeria's parliament is debating the bill, but the current administration ends later this month. If the PIB is not passed by then, new lawmakers may make amendments that could lead to months of further delays.
The government hopes the bill will tackle issues including funding shortfalls at its joint ventures with foreign firms, insecurity in the Niger Delta, increasing local involvement in the industry and production of more gas for domestic power.
REUTERS.