UNEMPLOYMENT STILL A MAJOR CHALLENGE TO GOVERNMENT -LABOUR LEADERS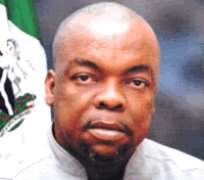 • Wogu
Nigerian workers joined their counterpart worldwide on May 1, to commemorate the Workers Day. The Day was marked with much fanfare as workers filed past with Vice-President Namadi Sambo taking salute on behalf of President Goodluck Jonathan. As usual, the President's speech was laced with assurances of a better tomorrow for workers.
The working populace was also reminded of the new national minimum wage of N18, 000, up from former N7, 500. The reminder was expected to excite the workers but alas, it was greeted with mixed feelings with majority of the workers under the scorching sun lamented their situation, their economic wellbeing.
Most of them argued that it was not enough to mouth the new wage, implementation, according to them, is what matters. Lamenting that they still have to grapple with the challenges of actual implementation, especially by governors, the unionists insisted that even at that the wage was still a far cry from an average Nigerian worker needs to keep body and soul together for 30 days.
By their assessment, workers have not fared any better in the last one year. They argued that with the economic doldrums, the new wage might not make any appreciable impact, given that government had not done much to stem the inflation which has been the main factor devaluing whatever increase is effected on the wage.
They also contended that the number of those that have been out of job in the last one year is more than those in gainful employment. Government over the years, they claim was yet to devise a job creation measure at all levels of governance. Even at that, the private sector, according to the labour leaders, has no capacity to expand and employ more hands because of the inclement operating environment.
Peter Esele, immediate past President of Petroleum and Natural Gas Senior Staff (PENGASSAN) and the President-General of the Trade Union Congress (TUC), noted that it was not yet uhuru for workers despite the new wage. According to him, so many factors militate against the value of the wage. He said: 'Nigerian workers and their dependants want to feel the impact of all the growth reeled out periodically by relevant governmen agencies. They want to see it translated into more qualitative and quantitative food on the table; better education; better social and physical infrastructure; they want to work in decent environment and they want their efforts towards nation building to be adequately recognized and rewarded.
'Nigeria is today one of International Labour Organization's (ILO) model country for the Decent Work Country programme and advanced work has been done concerning its actualization. The findings have been that of huge deficits in decent work targets. We therefore call for concerted action from government to address the various identified gaps with a view to making the Nigerian worker the key element in all our employment policies.
'Most of our affiliates in recent times have spent most of their time negotiating redundancies. Why? The simple reason is that companies are largely downsizing while others are closing shop. Our industries are near dead. The problem of the high cost of power as an input in the production process has variously been highlighted; however, must we at this time open up our borders to all manners of imports? Trade liberalisation was one of the basic problems of the Nigerian economy that messed up our domestic capabilities in the recent past. Must we go back to it?
'Although Nigeria is ranked the 39th richest economy in the world with a GDP of $212bn based on the 2008 World GDP survey, this disguises the fact that we have more mouths to feed as the eighth most populous nation on earth. Once this wealth is expressed per head of population, our world ranking drops to 170th, based on Gross National Income per capita, placing Nigeria in the bottom league of 'very low income economies.'
assessing workers' situation, Mr. Promise Adewusi, Deputy President, Nigeria Labour Congress (NLC) and President, Senior Staff Association of Nigerian Universities (SSANU) said Nigerian workers in the last one year have been further pauperized. 'In terms of nation-building, workers have done well. Sadly, they have been toiling with little or no tools, toiling at the risk of their lives under starvation. But in terms of pay back compensation, the Nigerian worker has not been well compensated. The average worker is poor and it is a shame when you have to work, to toil, to generate the wealth that the few get together to share and you watch all of these being frittered away, while you sweat.
'Often times, they said what the Nigerian workers constitute may be one per cent, maybe 10 percent of the population, but have you asked, which percentage produces the wealth that sustains everybody? Is it not this one or 10 per cent? Without Nigerian workers, there won't be any oil for politicians to keep battling over, there won't be any production going on in the system. In fact, to whom much is expected, much should be given in this circumstance and we don't get nothing.
'Even the N18,000 minimum wage, how has it fared? Of course, you will agree with me that N18,000 cannot be regarded as a living wage for an average family of six. But you know in Nigeria, there is nothing like an average family of six, you have the extended family system, particularly with the pervasive unemployment going on, where your graduate children will still have to feed and depend on you. So, you will find out that N18, 000 to carry about 12 to 15 people is actually a poverty wage. But even at that, what are the governors saying? that they are not ready to pay. And up till now, we are not certain when the effective date will be for some states. And when the workers start, people will say they have started again, because there is no way we are going to take this lying low.
'I am passionate about this thing about this minimum wage. Yes, it is a take-off point. Let us even get it. It is not a living wage, but let them recognize that the Nigerian worker is making a very critical contribution to nation building. Without them, I doubt where we would be. 'Also lending his voice to the argument, the Acting Secretary-General, National Union of Food, Beverage and Tobacco Employees (NUFBTE), Bamidele Busari, said that what the Nigerian government referred to as increase in workers wage was just a peanut compared to how much they squandered on irrelevances against the background of skyrocketing prices of commodities.
'Accurately, if you want me to tell the truth, the first thing is to first wish ourselves well for surviving the odds to be alive. If we have to look at the past one year, what has been happening to workers and the compensation he gets, it is nothing to write home about. At the same time, if you even go to the private sector, you will see that it is even worse. So, these are the things that give us serious concern in both public and private sector. But as at present, we are still earning and living below our expectation, in spite of the new wage.
'Honestly, how much would N18,000 buy? What would N18,000 buy in the market today? They did not even take into consideration those who are just artisans. We are just talking about federal government and the private workers in industries. Those who are wheeling their barrows, those who are in the markets, we don't think about them. Even those who are working day by day in the industry, how much are they receiving? Now, look at situation in Lagos. Even they pay you N50,000 in a month or even in a week and you deduct transportation cost out of it, depending on the distance of your house to your place of work. In a month, if you deduct transportation cost, pay house rent and so on, what will remain? You have nothing left. So, these are things we are asking now. Government should make the working environment to be conducive for Nigerians. It is not only when you raise money (wage) that you lessen their problem. You can make the environment conducive by giving every worker something to look upon.'
Also, President General of Maritime Workers Union of Nigeria (MWUN), Anthony Ntedeng described as frustrating the environment under which Nigerian workers operate. 'While unemployment is being fought in one hand, those having jobs are being retrenched almost on daily basis. In the last one year, the number of those who lost their jobs in some industries like banking and finance are unimaginable.
'Lack of capacity has made many of the manufacturing firms to sell their warehouses to churches which have made once thriving warehouses for goods to be turned to congregational places of worship', he said.