NEW NSE MGT SHOULD BRING MORE PROFESSIONALS ON BOARD- AKINDELE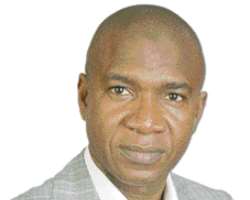 •Bola Akindele
Revenue from oil and gas export has accounted for over 80 per cent of Nigeria's annual earnings and over the years remained the mainstay of the country, so much so that it appears no other source of income can be as lucrative. Not even mechanized agriculture.
But the Managing Director and Chief Executive Officer, Courteville Investment Plc, Mr Bola Akindele, is quick to tell whosoever cares to listen that the country can deploy information technology (IT)-based business solutions to earn much more foreign exchange without necessarily investing so much, as it does in oil and gas.
Speaking in an interview, the 1985 graduate of Obafemi Awolowo University, Ile-Ife, said: 'IT-based innovative business solution is one of the tools Nigeria can deploy to earn foreign exchange without necessarily having to invest too much, as she does in oil/gas and agriculture.'
The Chartered Accountant, who also holds a Master's degree in Banking and Finance from the University of Lagos, explained that the investment in innovative business solution is intellectual, which, according to him, is found in abundance in the minds of young people in the country.
Making obvious reference to the exploits of Nigerian IT experts in his company and the innovative business solution products they have developed, the Courteville boss, who is currently undertaking a doctorate degree programme at the International School of Management, Paris, said with little encouragement from government, this form of intellectual exploits can turn out to be a goldmine for the country. 'All the innovative solutions that have been regarded as world standard have been designed, developed and launched locally without involvement of any so-called expatriates.
'And by the time we start exporting this to other countries, it would be a foreign Exchange earner. And you can't compare that with oil and gas, where the country needs so much in terms of capital investment and running cost. Also, you can't compare it to agriculture that requires heavy funding and capitalization to be able to achieve results. 'This form of IT is less capital intensive, largely driven by ideas of young people, whom nobody gives any chance in this country. Our young brains are quite good but nobody gives them the chance,' Akindele said.
He comments on the need to develop a reliable data base for the country, National Identity Card Management, expectations of quoted companies from the new management of the Nigerian Stock Exchange…and lots more.
Excerpts:
National identity card management and voters registration
The contract for National Identity Card Management and the just concluded voters' registration should not have been awarded to non-indigenous firms. It should have been an all-Nigerian business because we have local firms that could deliver on the project. We have to give ourselves a chance. We have to give young men who work very hard a chance to prove their mettle. Where we went to make presentations outside the country, it was the first of its kind. The people were wondering how it could work. For them it was the first of its kind. But back home we do not recognize the huge potentials in the country.
What was done during the recent INEC voters' registration exercise showed that we have no confidence in ourselves. I am sure it is not all Nigerian firms that handled the job. But why couldn't it be? What we are saying is that the contract for national identity card registration should not have been given out to any foreigner. It should have been for Nigerian companies only. I know there are Nigerian companies involved but they had to partner the foreigners. Nigerian firms could have handled the job better. I am not saying they should have given it to us; no. But what I am saying is that Nigerians can deliver on that job. We know all the local challenges; we know what to do. Foreigners don't know what we face here.
We have never bought any proprietary software; we design, develop and deliver everything locally. NIA insurance scheme, AutoReg Inspector, AutoReg Franchise and numerous others were developed and delivered locally. We have never bought anything from over seas; and we have nothing to do with so-called expatriates. I have had several inquiries from foreign based companies asking if we could partner them to execute jobs in the country. But back home, we get calls from some states in the country asking us who our promoters are; whether we are representing foreign firms. That shows how far we have gone in disbelief of our capabilities. There are many young men and women in my office who sit down and taking instructions from us, package ideas into products. In packaging it, we have included every single part that is supposed to be a challenge and we have sorted everything out.
Need to review some SEC rules
Akindele said that Securities and Exchange Commission (SEC) post-listing rule which allows any shareholder no matter how much shares he has to nominate a candidate for the audit committee of quoted companies, has turned out to be counterproductive and should be reviewed to make it more stringent. According to him, shareholder associations whose interests are at variance with corporate governance standards hijacked the clause to secure positions on the board without making any meaningful contributions to the board.
There is a preponderance of shareholder associations taking advantage of the clause not only to cause furor at annual general meetings (AGM) but also to smuggle unqualified individuals into membership of the board. And all that they want to do is to collect some money. They register the associations, and they have their so-called crowd. Just before the AGM you find some people coming, raising all sorts of furor at the AGM. And when you check through the records, all they have bought is just a hundred shares; perhaps a week before closure of register.
A particular shareholder brought about a hundred people and distributed to them ten units of shares each because he wanted a particular candidate to be on the audit committee of the company. You begin to wonder what they wanted to contribute to the board. Our job is highly technical, and the person needs to understand finances and accounting to be able to contribute. But they come here and could not contribute one single thing throughout the period. I think the rule should be reviewed.
SEC really has to consider this. There should be more stringent rules as to how to qualify to be member of any committee.
We don't want people who are just there because of what they want to get. It is only a waste of time. We will not get quality decisions out of that kind of committee. If we have two of such people on the board you can be rest assured that the only contributors will just be those that the Executive nominated. And that is not what we need or intend to achieve.
Expectations from the new NSE management
Let the new management of the Nigerian Stock Exchange (NSE) bring a lot more professionalism to the operations of the Exchange. I am sure that the new DG being a thorough professional from what we have read will bring on board fresh ideas. The good thing is that we heard that some of the old people have either left or been redeployed in the new restructuring exercise, we hope that they will now place round peg in round hole.
Then all entities that are being regulated will feel a lot more confident when we know that the only basis for getting your business done on the Exchange will be on the criteria that can be measured: performance, compliance, regular returns and all others. So that it is not that you know people at the Exchange or on the board that they get to allow you list. And not only when you know people strong in the economy you get considered for any thing. The valuation of your stock is done on the basis of what people know and what they hear about your company.
I expect that we will no longer get to hear about share price manipulations and insider dealings on the Exchange. And there has been so much talk about demutualization of the Nigerian Stock Exchange which means transforming the Exchange into a publicly quoted company. We hope the planned demutualization will now begin and the process transparent and unassailable. The regulators have no further reason or excuse to delay the planned demutualization because that is what the Exchange needs to attain a world class status SEC wants to actualize.
Importance of National Insurance Scheme
As software vendor of the National Insurance Scheme, we try to maximize value to all stakeholders not just investors at the Exchange. In this case the stakeholders are Nigerians as well as insurance industry and the regulators of the industry. We have to be sure that when you said that you have been insured on any policy, you are dealing with a sound and recognized insurance company. It is such a robust system that eventually all insurance policy across the country in whatever form, once they wholeheartedly relate with this database, they can confirm easily their insurance policy is authentic, whether third party or comprehensive insurance.
The database is such that 30 minutes after you receive your policy, you will be able to confirm online that the policy is real. It means that when the law enforcement officers on the road, FRSC, Police, VIO, when they stop the individual on the road they will be able to add that to what we already supplied to them, your vehicle documents, your driver's licence documents, authenticity and validity of your insurance documents on the road without necessarily having to call any body once you have AutoReg inspector equipment or machine as we call it. So it is going to be useful to all stakeholders. We are starting with motor vehicle and the marine because this is where most of the sub-legal activities take place. Once you are sure that you have a valid insurance policy and that you are dealing with credible insurance company that is recognized by the industry, regulator, practitioners and everyone, as having done your business there.
In terms of returns, it is additional revenue to what we have been doing that is why I said that the business is growing. So stakeholders can expect that when NIA is happy, and NICOM is happy and insurance companies are happy, certainly, Courteville will be happy and if Courteville is happy they too will be happy.
Expectations 2011
This year is election year, and presently first and second quarter of the year are marked by political activities. Even when the elections are over and swearing in is concluded there will still be electoral issues, appointments are to be made. The problem is that the budget is not a budget of growth. As far as I am concerned, not much will be achieved this year but hopefully by the end of third quarter, government would have settled down for serious business.
We hope that President Goodluck Jonathan's administration will work hard to actualize the planned power reform as soon as possible because that will be a great boost to the economy. Of all the challenges facing the economy, epileptic power supply is the most threatening. So, it is our hope that if present administration fixes the problem of power and energy, other challenges of economic growth will be eventually resolved with time.
Our operations in the last three years
What Courteville has done in the past 3 years is to build a data base site. We have records of over 15 million motorists in Nigeria and other electronic files. In each file you have at least 10 records. So we are talking about 70 to 100 million records. And this is the largest database in this part of the world any body can lay claim to. And this data base has never been found wanting. And we can replicate that for the National Identity Card management or for any similar project. We have over 3000 processing centres in the country with efficient hands managing these centres. We are creating employment; we are creating business for people for our people. We have built ourselves the easiest and soundest system to be able to deliver mass products to the people of Nigeria at any point in time.
Regarding what our performance has been, last year was a flat one for us. But this year so far, we have added about 10 states to our operations bringing us to 15 states from three we had in 2009. Our e-commerce shopping site, egooleshopping.com, is going to be launched commercially very soon. And we have all these other projects that have been contracted to us by some other agencies. We are expanding our scope in each of these states to deepen our relationship to bring in more of our services there. Lately we have been contracted to be the software vendor and administrator of the National Insurance Scheme for the whole of the country which we have practically concluded and going to be launched any time from now.
Building a national data base
Nigeria has made the third attempt at getting the national identity card work. In the first two attempts, they paid heavily and nothing was achieved. In fact it is very important to have a national data base and its usefulness cannot be overemphasized. At least it will enable the government to make its planning based on accurate data. Unfortunately, the government has not put it in place after successive attempts.
If the exercise is not political then let the authorities give it to the right people to do. The project is not a lot of work. If given to the right people, in a period of 12 or 18 months the exercise will be concluded and every body will know that he or she is a citizen of Nigeria.
About the company
Courtville is a foremost business solution company in Nigeria and West Africa as a whole. More popular for its flagship product, the AutoReg franchise, there are so many services and products the company has developed and operated which made the company more visible in service solution sector of the economy. Before coming to the Exchange in 2008, the company's AutoReg Franchise operated only in 3 states but 3 years after the AutoReg became operational in 15 states in terms of motor vehicle documentation.
We have taken this beyond the shores of Nigeria to some other West African countries. That puts us on the road of establishing Nigeria as India of Africa in terms business solution development. We also have the nationwide coverage in terms of our relationship with the Federal Road Safety Corp. We supplied them with the solution that will allow them verify the authenticity of the records of all motorists and motor vehicles and their drivers' licences all over the country.
Everything that we have done in Courteville, all innovative solutions that have been regarded as world standard have been designed, developed and launched locally without involvement of any expert.