Nigerian Navy Gets Warships As Gift From US Government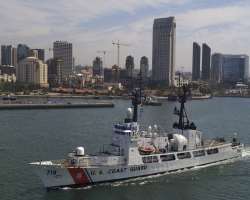 USCGC CHASE (WHEC-718) GIVEN TO THE NIGERIAN NAVY BY THE UNITED STATES GOVERNMENT. PHOTO CREDIT: WIKIPEDIA.
Correction: Two warships transferred to the Nigerian Navy!
SAN FRANCISCO May 12, (THEWILL) - The United States Government will on Friday, May 13, 2011, handover two of its decommissioned Warships, the USCGC Chase (WHEC-718), and a Hamilton, both Hamilton Class High Endurance Cutter ships used by the United States Coast Guard.
The US and Nigeria have a historic bi-national cooperation agreement on Security, Trade, Energy, Niger Delta and Electoral Reform. The deal was signed in 2010.
Professor Ade Adefuye, the Nigerian Ambassador to the United States alongside officials of Nigeria's Ministry of Defence and the Nigerian Navy will received the ships at a ceremony inside the Alameda Coast Guard Base in Alameda, about 10 kilometers from San Francisco, California.
The 378 ft ships have a crossing range of 9,600 miles at 20 knots, with an 80-foot flight deck that is capable of handling navy helicopters and can undertake extended patrol missions.
Its capabilities are enhanced by advanced air search and surface search radars, including the AN/SPS-73 digital surface radar system that incorporates a state-of-the-art computerised collision avoidance system, according to a note about Chase on Wikipedia.
The refurbished Chase was commissioned on March 11, 1968 and decommissioned on March 29, 2011 was built by Avondale Shipyards. It was indeed named after Salmon Portland Chase, an American politician and jurist who served as a US senator from Ohio and the 23rd Governor of Ohio State, who also served as US Treasury Secretary under the Presidency of Abraham Lincoln.
The ship has been involved in several operations including the Vietnam War. In 1998, Chase, while on a patrol in the Persian Gulf, diverted four vessels in violation of UN sanctions against Iraq, interdicted 1,527,740 gallons of fuel oil and conducted 86 gunnery exercises.
In 1999, Chase seized seven metric tons of cocaine, then the second largest cocaine bust in Coast Guard history.
In August 2009, it earned an overall EXCELLENT during its Tailored Ship's Availability operation in San Diego, California, and was awarded the Distinguished Coast Guard Battle 'E' Ribbon.