NICC SEEKS INCREASED TRADE RELATIONS WITH ISRAEL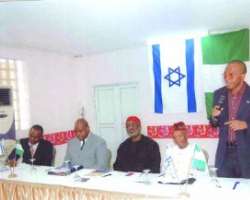 By Micheal Eboh &  Onozure Dania
Mr. Jude Arinze, Executive Secretary, Dr. Okey Anueyiagu, Finance Director, Senator (Chief) Ben Obi, President, Mr. Bassey Ndiokho, Vice President and Mr. Iyke Willie Nwobu, Director, at the Nigeria-Israel Chamber of Commerce General Meeting on Tuesday 10th May 2011.
As parts of efforts towards improving bilateral trade relations between Nigerial and Israel, businessmen and investors in Nigeria have been advised to take advantage of the numerous opportunities inherent in the Israeli economy to grow their businesses and the Nigerian economy in general.
Speaking during the general meeting of the Nigerian- Israel Chamber of Commerce (NICC), in Lagos, President of the Chamber, Senator Ben Obi emphasised the need for businesses in Nigeria to tap into opportunities in Israel's information and communication technology industry, technological advancement, economic advancement, among others.
He expressed the readiness of the NICC to promote the interests of Nigerian investors and businesses in Israel and provide the necessary support and consulting services to individual business.
Obi explained that the NICC is a public, independent and non profit entity that promotes the business interests of members, the trade and services sector and the entire business sector.
According to him, a number of businesses in Nigeria have already started tapping into the opportunities in Israel, with about 5,000 Nigerian businesses and organisations scattered all over Israel.
He noted that these businesses are linked directly with the NICC, while it presently enjoys about 10,000 indirect members through agreement of cooperation with the Federation of Israeli Chambers of Commerce and Israel Africa Chambers of Commerce.
Obi said further, 'It pays to do business with Israel. As a member of Nigeria- Israel Chamber of Commerce, you have the inside track of doing business with one of the world's most dynamic and important economies.
'The frame work of the Nigeria- Israel Chamber of Commerce, representing the full spectrum of businesses in the trade and services sector, includes wholesale trade, retail trade, exports, import, real estate, the capital market, financial services, tourism, private medicine, private education, business services, among others'
He noted that the Nigeria -Israel chamber of commerce, provides its members with updated information about fairs, exhibitions, economic reviews, business guides, international trade issues and other relevant data from Israel.
Continuing, he said, 'The Nigeria - Israel Chamber of Commerce is active in a number of leading international and local organisations such as Federation of Israeli Chambers of Commerce, Israel Africa Chamber of Commerce, Nigerian Association of Chamber of Commerce, Industry, Mines and Agriculture (NACCIMA).'