PIB: Senate Denies N2.5B Bribery Allegation, Orders Probe Of Punch Newspapers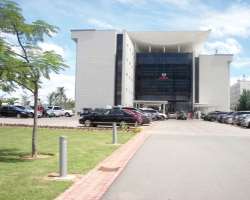 ABUJA, May 11, (THEWILL) - A fuming Senate has debunked reports by a national daily newspaper alleging that it demanded a N2.5billion bribe from unnamed bodies to fast-track the passage of the contentious Petroleum Industry Bill (PIB).
It described the publication as not only false but also a mere blackmail aimed at portraying the Senate in bad light as well as inciting the public against their representatives. Consequently, senators resolved to refer the matter to Senate Committee on Public Petitions, Ethics and Privileges to investigate the story published by The PUNCH newspaper on May 10, 2011.
Senator Amusu Idris Kuta (PDP, Niger) had raised Order 18 of the Senate Rule which deals on members privileges, thus drawing the attention of senators to the publication captioned "Legislators demand N2.5billion bribe to pass PIB."
He told lawmakers that the allegation negates his privileges as a member of the Senate.
Reacting to Senator Kuta's presentation, the President of the Senate, Senator David Mark who frowned at the publication directed him to lay it on the table and invited comments from Senators Lee Maeba, Chairman Senate Committee Up-stream Petroleum, Senator Lee Maeba (PDP, Rivers), whose committee handles the bill to speak on the matter.
Senator Maeba however expressed surprise over the bribery allegation and denied ever receiving money from anybody for the purpose of influencing the passage of the PIB.
He wondered how anybody or group of persons could be accusing the Senate of demanding bribes to pass the PIB when the bill had reached advance stage in the process of being passed into law.
He therefore condemned the publication and its author, saying the allegation holds no water since it was coming from a faceless columnist.
Also reacting chairman, Finance Committee Senator Makarfi (PDP, Kaduna) denied ever receiving money from anybody for the purpose of passing the PIB.
Ruling on the motion, the President of the Senate, Senator Mark, directed the Ethics committee to carry out a live coverage of the investigation of the allegation to afford Nigerians the opportunity of knowing the truth behind the Punch Newspapers bribery allegation claim.
He condemned the allegation which he said was blackmail capable of inciting the Nigerian public against the Senate, insisting that the Senate demands an apology from the newspaper and charged the committee to ensure that investigation on the matter was concluded before the close of the current Senate regime.