I'm not under pressure being married to someone older —Dare Art-Alade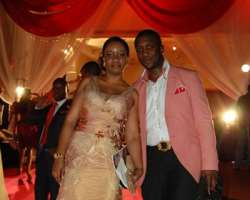 Dare Art-Alade is a class act by all standards; he is a radio presenter a Master of Ceremony and a musician all rolled up in one. He is the son of the late music maestro Art Alade and in this interview with Ahmed Boulor, the father of one bares his mind on a range of issues which includes: his marriage, career and his current status as the co-host of MTN's Project Fame. Excerpts

HOW does it feel being the host of MTN's Project Fame knowing fully well that you once participated in the maiden edition held in South Africa four years ago?
It feels really humbling and it also goes to show that what goes around comes around and we must at every point in time do our best in whatever activity that we are involved in because one never can tell who is watching. Four years after I feel privileged to be selected to host the show out of the very many talented ones who are potentially good for the job. So it is a feeling of pride and humility all in one.

What is the experience of being the host of the show like?
So far so good, it is not something new. I am used to hosting and presenting or things like that. But, it has its own challenges as well and the whole process has been exciting.
You seem to be versatile being a musician, an Mc and a radio presenter. Which of these are you more comfortable with?
All of them! I don't have a problem with any of them. It is just about being comfortable with creativity in any form that it comes. I wouldn't say I am the best painter or artiste, it is just my ability to apply my creativity to whatever I am involved in: music, dance, theatre and the media.

What is the reason behind shooting two different videos for your single entitled Carry dey go?
We actually did both versions on the same day. The first one that featured me and Tu face was very artistic. But the remix is more of a club mix; it is more of dancehall package and it features Naeto C. The major reason we had two videos for the song was simply because the original and the remix are different modes; the one that features Tu face is slow mellow while the that has Naeto C on it is more of a party blend.

Why did you leave Storm Records?
It is what you may term mutual understanding; two matured parties understanding that it is not working the way it ought to work and instead of making a fuss out of it, we decided to call it quits and part ways. But I am still a friend of the Storm family.

On what label will your forthcoming album be released?
I have my own Entertainment label called Soul Produktionz; so instead of calling ourselves a record label we are just doing independent shows and consultations for entertainment.

How far has worked gone on your forthcoming album?
It's looking good! I am recording more songs like the one I did with Tu face and the album will be out in January. I also have a song with 9ice and I have been recording with TY Mix, Cobhams and Don Jazzy. So it's coming on well and it will be an album specifically for matured audiences; people who are in relationships or who are in love. I also have one or two party songs that will prove to be club hits.

Has marriage in anyway softened you?
I have always been a mellow person for those who know me. When I try to be aggressive is when I put up the youthful exuberance cloak; but really I have come to realise that my strong point is in being mellow. That is why I sing slow and mid tempo songs and I discovered that anywhere I go in the world when I open my mouth and sing songs like that, I catch the audience.

How does it feel being a father?
I feel blessed having a son! It is a great feeling anybody out there that has one knows exactly how I feel. It shows how blessed and favoured you are in the sight of God. Now I have a responsibility that I have to take care of and unlike before money for shows is not for me alone as I now have mouths to feed.

Of all your fathers' children, you are the only one that followed in his footsteps and in the process you have gained considerable popularity. Does this not make your other siblings uncomfortable?
Not at all! I mean if there is any thing they are really supportive of me and they are happy that I am doing what I am doing and carrying on the legacies of our late father. I totally have their support and I don't have any problem regarding that.
Do you not feel any pressure of any sort being married to somebody older than you are?
No pressures at all! Every body at sometime finds what works for him or her. I am perfectly happy with my marriage to my wife and I absolutely have no problems or pressures of any sort.
Word has it that you have moved from Lagos to Abuja; do you not think that will affect you considering the fact that

Lagos is the boiling point of entertainment in Nigeria?
Yeah! Lagos is the hub of entertainment; but Lagos is not where all the money is. Money doesn't stay in one place, there is money in America and there is money in South Africa. There is money in Lagos and Abuja if you want to broaden your horizon then you should not be restricted to a place. The money I can make in Lagos is very minimal but that is not the reason why I am in the capital city. Abuja is where my family is and it is a very cool place to raise a family. Lagos is chaos, it is a mad place and I have lived here for many years so I know how Lagos operates. I also have my businesses in Abuja and I basically shuttle between Lagos and Abuja. I am not somewhere just for fun; anywhere you see me there must be a reason for being there.

Is it true that you will be travelling to South Africa soon?
That's true! We are going to shoot more videos and see if we could fix other elements of the upcoming album. There will be photo shoots, interviews and what have you.

How soon will your album be released?
Hopefully and by the grace of God, it's going to be released in January. The album proper will be launched in February which means that you would have had the album before it is launched.
Is that in anyway a strategy you are adopting to make the album make an impact in terms of popularity?
You could call it a strategy but for me it is just common sense. When you sit down and carefully think of what people will like and how it will best work for them and you try it out. Sometimes you get it right and sometimes you get it wrong.
Having had first hand experience with Project Fame four years ago; how would you rate the talent of the contestants in this year's edition with your time?
There is a lot of talent in the house; again is about people coming out when an audition is called. Somebody out there might be a better singer but if you don't come out and show those who are conducting the audition what you can offer then your talent dies with you. What we have seen are one of the best of talents that we have at the academy. I am not saying that they are the there is but those that are better out there didn't come but of all the lot that were auditioned the best were selected.
Are you making money off music?

I haven't started making money the kind of money that I should; considering the amount of resources one invests in the making of albums. But a lot of people do music without the love of it, if I didn't love what I am doing I would have been distracted and disillusioned with piracy and what have you. The more consistent you are, someday, that big breakthrough that you wished for would come. The music business is a business of hope and you must keep hoping for the best. Look at people like Majek Fashek and Onyeka Onwenu; if any of them ever stopped at any time in their careers they would have been forgotten. The most important thing is for people to remember you. You may not be rich but they know you are there and you are doing what you know how to do best.
Would it be okay to sum up that the kind of music you sing is determined by your kind of person?
Yes! Generally speaking or around the world, the kind of music you hear from an artiste to a certain extent can tell you the kind of person he or she is. You could tell by the lyrics he chooses to use and things like that. So I am an artiste that likes it blue and slow. I also like to dance, I know how to rock the show but I am more mellow.