GNU WILL KILL NIGERIAN DEMOCRACY, SAYS AKANDE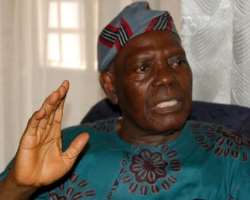 Abuja - The National Chairman of the Action Congress of Nigeria (ACN), Chief Bisi Akande, has said that the  Government of National Unity (GNU) proposed for the next dispensation will  kill the country's democracy.
Speaking on Tuesday at an interactive session between the newly elected members of the National Assembly and the party in Abuja, Akande said the GNU model was touted when the country's peace was threatened.
Chief Bisi Akande
He said that the country would not need such coalition in a peaceful democracy.
The chairman explained that the GNU had not favoured opposition parties in the country, adding that the process had made some parties, at a time, to lose their states to the ruling party.
'The government of national unity is not favorable to our system, and the idea can only be effective when the nation's peace is threatened by  civil war or serious violence erupting during elections.
'The government of national unity has made ANPP and PPA, which participated after the 2011 presidential elections, to lose their states to the PDP.
'I cannot see the need to join the ruling party after elections, when we contested and lost, then we will go behind the doors to accept positions.
'That does not make sense,'' he said.
Akande warned the ACN members not to take any appointment from President Goodluck Jonathan and cautioned that whoever might decide to take such appointment, should resign his or her membership of the party.
Also speaking, Sen. Lawan Shuaibu, the National Secretary of the party, charged the elected members to be committed to their duty, describing the National Assembly as the `power house of the nation'.
Lawan shared his experience as a former member of the NASS, tasking the new lawmakers to remain resolute on issues of national interest and to shun selfish interest.
Sen. Olorunnimbe Mamora (Lagos East), who spoke on legislative rules and business, informed them that the rules of the assembly must be understood for effective participation.
He said it was important for members to comprehend all the rules to ensure confidence and purposeful contribution in the national assembly.
'The National Assembly is the most misunderstood, misrepresented and misconstrued arm of the government.
'Every legislature must understand the legislative rules to be able to navigate as a legislator, and it is a common fact that one cannot give what he does not have,' Mamora said.
Closing the ceremony, Chief Audu Ogbeh, a party chieftain, challenged the legislators to enquire more about the local government funds.
He said the essence of the local government areas as a tier of the government had been basterdised by state governors.
Ogbeh thanked the people of the South West for sweeping the broom across the region and said that the party would not disappoint them. (NAN)