Nadia Buari and Yvonne Nelson take their supremacy war to Nigeria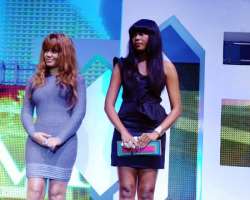 Nadia Buari and Yvonne Nelson who respectively hit stardom some years back cannot be said to be the best of friends.
The Ghollywood actresses apart from not usually being spotted together at social gatherings, do not pretend that they are friends.
This claim was established last Sunday, when the duo made stage appearances at the popular AY show, held at the Eko Hotels, Victoria Island.
Mid way into the show, AY had invited the two super stars, who flew into Lagos from Ghana that evening, to the stage alongside the play boy actor, Majid Michel.
While Yvonne Nelson was the first to mount the stage, Nadia Buari later joined her. But something strange happened. Upon mounting the stage, Nadia maintained her distance, pretending as if she did not take notice of Yvonne Nelson's presence. Minutes later, she decided to draw closer to her and held her hands. It was such a visible display of no love lost between the two actresses. The teeming guests at the show, who noticed the strange behaviour, expressed reservation as they wondered loudly why the actresses from the same country should treat themselves as strangers on the Nigerian stage.
Back in Ghana, the actresses are constantly being compared with each other, either in acting capabilities or in looks.
Over the years, the two stars have played hundreds of lead roles in many commercially viable and critically acclaimed movies. On screen, the two usually project a chemistry of amity and harmony, which in real life rings false. To say that Nadia Buari and Yvonne Nelson are in competition over supremacy and primacy of importance in the movie world is to state the obvious.
Judging from what transpired on stage that evening, it is obvious that the two A-list actresses have allowed the negative emotions of jealousy, ego and pride to come between them. Who knows!