CBN'LL SELL ALL RESCUED BANKS -SANUSI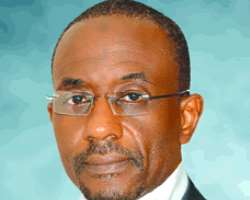 All the systemically important banks rescued in a bailout two years ago will find new investors, with four of them already agreed in principle on mergers, Central Bank Governor, Lamido Sanusi, said on Thursday.
The CBN had in 2009 injected N620 billion into nine lenders deemed by auditors to have become so weakly capitalised that they posed a risk to the entire banking system in sub-Saharan Africa's second-biggest economy.
An Asset management corporation of Nigeria (AMCON) has been set up to restore them to zero shareholders funds but new investors have been sought to bring them up to minimum capital adequacy. 'I don't think there are any that will never get sold,' Sanusi told Reuters on the sidelines of a World Economic Forum event in Cape Town.
'Four are certainly on their way to mergers … Two more have suitors, very good suitors, but we couldn't agree on commercial terms,' he said.
Union Bank, Intercontinental Bank, Finbank and Afribank have all signed memoranda of understanding with new investors.
Intercontinental will merge with healthy local peer Access Bank , while Union Bank has announced a $750 million deal with a consortium led by the African Capital Alliance private equity firm. Afribank has signed a recapitalisation agreement with private equity group Vine Capital, a consortium of local and international firms. Banking sources say First City Monument Bank (FCMB) has signed an agreement with Finbank although the deal has not yet been formally announced.
The two banks where commercial terms for a deal could not be agreed are Oceanic Bank and Bank PHB.
First Bank had been seen as a potential buyer of Oceanic but its chief executive told Reuters last month it had yet to strike a deal on buying any rescued bank. Bank PHB was the product of a merger between Platinum Bank and Habib Bank, one of Pakistan's biggest lenders, and banking sources have said Habib has held talks about increasing its shareholding.
'Oceanic does have strategic assets and we feel the value being offered does not reflect that,' Sanusi said.
'The other (PHB) is a bank where there is a suitor but we feel the amount of capital being brought in is not sufficient for the bank to stand solidly on its feet,' he said. Sanusi said there was no rush to sell Oceanic or Bank PHB and AMCON could recapitalise them and ready them for a sale in a few years' time.
'Our first option is to get private sector partners. But in the absence of that happening, we can easily plug the hole, capitalise them, put in management, let the banks run for a year or two, and then do it later,' he told CNBC Africa television. Two of the other rescued banks - Spring Bank and Equitorial Trust Bank, which accounts for less than 1 percent of the total banking sector in Nigeria - are seen as systemically unimportant.
The ninth rescued lender, Wema Bank), is restructuring into a regional bank, which has a significantly lower minimum capital requirement than national banks. It has already raised capital to ensure its survival.