I won't produce an English movie for $20m - Yomi Fash Lanso, Yoruba movie star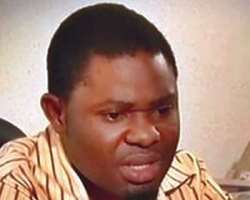 Oluwayomi Ifashola Lanso, popularly known as Yomi Fash, is an ardent believer in the indegenous use of native language in movies. In this interview with Ada Onyema, he talks about his love for his language, life and sundry issues
Being in the industry for the past 15 years, can you still remember your first film?
It was not a major one, but it was on that set that I met Jide Kosoko.
How much were you paid ?
It was not about the money. People will cheat you if you allow them to cheat you, just focus on what you want, irrespective of anybody envying you as far as you are good at it; that 's the most important thing.
You are basically stuck with the Yoruba genre; why don't you experiment with English?
For one basic fact: I'm a Nigerian, not American or British. I'm speaking English with you because you are not Yoruba. If you are Yoruba, I would be speaking Yoruba; when you get to your office, you translate. Apologies to my colleagues, I don't see any reason why as a Nigerian, I would say I'm an English actor. What would the British or Americans call themselves? So, we need to come back home and address these issues. Why can't we make movies in Yoruba, Hausa or Igbo? Other countries want to learn from us, respect, us, but when we ape them, they look at us as inferior.
So, you encourage the use of native languages in movie production?
Yes, I believe in my way of life, my tribe and my origin. I have not seen where Americans or Britons shoot a movie and speak Yoruba, Hausa or Igbo throughout. I don't belong to that clan that will say I want to shoot a Nigerian movie and speak English all through. I can't get accross. Until we go back to our original standard by letting them know that we have arrived, we will still be where we are. What we discovered in history is that if you want to kill a people, just take away their language and they are dead. We have stars who don't know their background; that is why we are doing what we are doing and to God be the glory, we have been able to salvage our culture in our own way.
Does that mean that as far as you are concerned, it is Yoruba genre for life?
Yes.
Supposing you get a $20m offer to do an English movie?
I will turn it down. What message am I passing, aping people? If for a justifiable reason the Chinese can't speak English with you even at the international level, in world summits, they hear it but can't speak, they force you to get a translator and they rate them high, it is possible in our country. Even if we can't because we are so diversified, let's adopt Pidgin and let our President go to a world summit and speak Pidgin, they will get a translator.
How many more years do we have to wait?
Already, there is a tremendous change in Nigeria and even in the Diaspora. Not that I don't want my children or the future generations to speak English, but we must be deeply rooted in our culture and language. Don't see your language as secondary, it is primary and any other one is secondary. That is what we stand for. We speak our native language whenever we are together because we need to get it done, otherwise, we remain nonetities and that we won't allow.
Don't you think you are a rebel of sorts?
Rightful rebel. I stand for what is good. If I see something bad, I tell you why it is bad. So, if I'm doing something that is bad, you tell me and I will change.
What inspired the name, Guerilla?
It is about me and my guys. We have only two to three guerillas in the movie industry. I'm Guerilla 1, Funsho Adeolu is Guerilla 2 and we are currently grooming Guerilla 3. We have formed this clique to enable us to begin the wind of change and as such, we work long, do our things without any form of mediocrity or favour, and we don't condone nonsense or take crap from anybody. In life, you need to have close friends who share the same societal, social, moral and educational values with you. But when you are in the midst of people who don't think alike, there will be a collision.
Why the name?
The name is not about juju. It is just that we don't take nonsense; we stand tall and tell you what is right without caring whose ox is gored.
How did you come into the movie industry or did you study theatre arts?
I grew up having my brothers taking me to the cinemas. At a stage, I developed a strong interest in acting. As time went on, I started taking correspondence courses. One thing I have learnt in life is that whatever you want in life, go all out and learn it. That is what is called sacrifice; you sacrifice your time and go all out to learn it. I also did some courses and workshops here and there, which really helped me. That was why in 1995, when I came into the picture, it was very easy because there had been years of preparation.
What did you study?
I studied Business Administration.
Why did you leave your banking job for acting?
I resigned voluntarily. A banking job is a routine job wake up in the morning, join staff bus, go to work and close at the end of the day. I am not that kind of a person. I have to be free, wake up at my own time and go out at my own time. You cannot do that unless you are free. I needed to be a free person and that is what acting has provided for me.
What childhood experience inspired your regular appearances in diabolical movies?
Talking about what we call juju in Africa, whether you are Igbo, Yoruba or Hausa, we have our own way of it. That's just the truth. It is part of our lifestyle and we cannot run away from it. If you say our movies are too diabolical, are we encouraging rituals, witchcraft which are so common in our movies? I don't subscribe to that. We are hardworking people; we depend solely on what we do. But we cannot say that we don't have bad people in our midst, they are everywhere; in the church, mosque, even in our families, we have the good and the bad. It is the bad people that will use these things to do evil.
Does that mean our movies must be based on ...?
No, what we are saying is that we have to cut down on it. What message are we passing to the young ones - that you can't make a decent living without being diabolical? No. We have to let them know that they can be independent by discovering their potential and making the best of it. That is why in any movie I appear, I study the story line and try to inject my ideas. Let's try and change the youths by using the industry to change our country for the better.
How did you meet your wife?
I met her in a phone booth when I went to make a call. We dated for four years before getting married.
What really attracted you to her?
I saw a plain and simple person.
How does she feel when you act romantic scenes?
She feels normal because she knows it's make belief. She knew me as an actor before she married me. So I don't think it is a problem for her.
You were quoted to have said that it was no big deal acting nude.
Yes, there is no big deal.
Does that mean you can act nude?
Saying that there is no big deal acting nude doesn't mean I can act nude.
So, you can act nude?
I can't.
Then it's a big deal
I said that because it is a free world. If an actor or actress feels like doing it, why not?
So, why can't you?
It has to do with my prerogative. I must not enforce my life on you. Live and let live, so as long as you are not stealing or killing. I once told a friend of mine to choose between being an armed robber and a prostitute and I'm asking you same. If my colleagues feel they can do it for a particular reason, why should I condemn them?
Did you at anytime want to quit acting for something else or for a reason?
I don't think so, except when I was banned from acting by my association (ANTP) for having the effrontery to query the executive committee for their non-chalant attitude towards artistes' welfare. Apart from that, I have never thought of it. Of course, frustration will come and go.
What was your parents, reaction when you took to acting?
My mother did not know I am into the movie, even uptill tomorrow, I didn't tell any of my siblings and mum. One day she said she saw me in a movie, I said no and I didn't tell her uptill tomorrow. If you allow something to get into your head, there will be a problem. I want people to know me through my work and not through what I say.
Is the industry paying off or you do something else?
Of course, in every industry whether in Nigeria or abroad, you must diversify. Even if you are collecting N35m, you have to diversify and invest. I'm into wrist watch business; that is how to separate boys from men. Our services are for men only and not for boys.
Which movie brought you to limelight?
It was Omolade by Jide Kosoko in 1995.
Any regret in life?
I don't dwell on that. Whatever happens in life, move on. Don't let your past ruin your future; I have no regret.