POWER SHARING: IT'S EITHER THE SENATE PRESIDENT OR SPEAKER -S'EAST REPS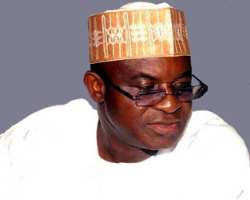 Members of the House of Representatives from the South-east said yesterday that the zone would not accept any position in the in-coming administration short of that of the Senate president or Speaker of the House of Representatives. In a statement jointly signed by 43 members of the House from Abia, Anambra, Ebonyi, Enugu and Imo States in Abuja, the lawmakers alleged that 'the South-east geopolitical zone of Nigeria has suffered serious political setbacks,' some of which had been self-inflicted while others were imposed in recent times.
They noted that the zone had demonstrated absolute good faith in the recent presidential election when it 'whole heartedly and unconditionally' backed the candidature of President Goodluck Jonathan, following what they called the block votes given to him by the zone at the Peoples Democratic Party (PDP) primaries.'It is pertinent to mention here that under the present circumstances only the position of Senate president or Speaker of the House of Representatives is acceptable to the South-east. It is a gratuitous insult to offer the South -east any position less than this,' the lawmakers insisted.
According to to them, the argument about religious balancing is not historically tenable even as they pointed out that in 'the Second Republic, while the president (Shagari) was a Muslim, the vice president, Senate president and Speaker were all Christians. Hell was not let loose. During the 1993 presidential elections, the South-east put its weight behind the Social Democratic Party (SDP) Muslim – Muslim ticket of MKO Abiola and Babangana Kingibe.'
'In 2007, the President of the Senate, Senator David Mark and the Speaker of the House of Representatives, Patricia Etteh, were Christians. In fact, in the current legislature, both the speaker and the deputy speaker of the House of Representatives are Muslims. Religion has never been an issue. How has it now crept in surreptitiously?'
'We call on Ohaneze Ndigbo, all the governors of the South-east, all Senators and honourable members-elect and all stakeholders in the politics of the South-east, who were in the forefront in convincing the people of the South-east to support President Goodluck Jonathan to once again rally round and ensure that the South-east is not further humiliated.
'We insist on either the offices of the President of the Senate or Speaker of the House of Representatives. We will reject other offices such as Secretary to the Government of the Federation, Deputy President of the Senate or any such office that may be offered to undermine the attainment of the two offices so mentioned.
'Our patience, support and loyalty must not be taken for granted. In the words of Mr. President, 'enough is enough.''