PRESIDENTIAL POLL NULL AND VOID - ONOVO, AA CANDIDATE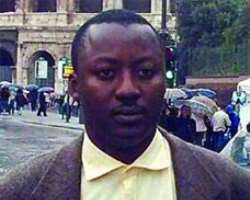 Even though the April 16 Presidential Election result, as declared by the Independent National Electoral Commission) INEC was described as no victor no vanquished by President Goodluck Jonathan, who was declared winner, the Action Alliance (AA) is having a different opinion following its feeling of exclusion in the exercise.
According to its presidential candidate, Engr. Martin Onovo, the fact that INEC unilaterally excluded not only his name from the presidential election, but also all candidates of the party in all elective positions across the country, impinged on the credibility of the exercise.
In this interview, Onovo expresses his party's grievances over its exclusion by INEC.
What is your assessment of INEC performance in the elections?
INEC performance is completely unacceptable because it was marred by several deviations and inadequacies. The most important and fundamental deviation is the lawlessness of INEC, which deliberately, mischievously and corruptly violated the laws govern elections in Nigeria particularly the electoral act.
What are you saying? How did INEC violate the laws that govern elections?
The first thing is that we have to know what the Electoral Act says. The electoral Act says INEC has no authority to exclude candidates nominated by political party. Prof. Attahiru Jega, the INEC chairman had, in one of his press conferences before the election, reiterated the same, saying that unless there was a court order restraining any candidate, INEC cannot reject candidate of any political party. Now, there is no court order against the candidates of Action Alliance, but INEC went ahead and excluded all Action Alliance candidates for all positions across the country from the National Assembly elections to that of the Presidency. INEC excluded all Action Alliance candidates in the elections with no exception. Also, INEC violated the laws of election finance limit by permitting the incumbent to fund electioneering or campaign with questionable funds, which was well beyond the limit set by law. This is a fundamental requirement for free, fair and credible elections. In addition to that, our party Action Alliance, went to court, in its normal compliance with the rule of law and got a court order, which directed INEC to list its candidates to participate in the National Assembly election, but INEC violated that order and refused to list the party's candidates.
We have another case in court against INEC, and while the case was pending, INEC went ahead and conducted elections, which also excluded candidates of Action Alliance. INEC has, therefore, violated very fundamental and significant laws for free, fair and credible elections, and has continued to maintain itself as lawless having conducted a charade, which it's pretending to be an election and that charade is morally and legally null and void. With the unlawful exclusion of all Action Alliance candidates in the entire country, the obvious bias of INEC, which was documented by the conference of Nigeria Political Parties (CNPP) in a protest letter signed by Willy Ezeugwe, the gross violation of the Electoral Act particularly on election finance limit, violation of court orders, wild spread rigging by falsification of results, fraudulent, corrupt and unlawful proxy voting, abuse of the military and the law enforcement agents and collation fraud made the entire exercise unlawful and illegal to be acceptable.
President Goodluck Jonathan and INEC chairman, prior to the election, pledged to ensure free, fair and credible polls. In your opinion, did they redeem that pledge ?
The first fundamental requirement for free, fair and credible elections, as I said before, is compliance with the law. The law is the basis of the human socio-political elections. The law is the fundamental basis and if the foundation is destroyed, what can the righteous do? No person, in his right senses, can describe the elections as free, fair and credible. In the presidential election, for example, the Social Democratic Mega Party (SDMP) had a court order against it and its candidate withdrew, but it was listed in the ballot paper, even though its candidate withdrew. But Action Alliance that has no court order against it was not listed in the ballot paper, and this is how Nigeria has continued to dysfunction in a very incomprehensible manner and we cannot continue to tolerate this. The promise of the president and that of the INEC chairman are obviously established as false promises. The election, therefore, is not acceptable because it is null and void in law and in morality.
Are there other ways you believe Prof Jega and INEC got it wrong?
The whole process was wrong, from the inception of voters registration exercise and starting with the use of old same staff that Prof. Maurice Iwu, immediate past INEC chairman and Jega, who was a consultant in 2007, used. The same old staff that were used in 2007 by the old INEC, which Prof. Jega was, however, part and parcel of are also being used in the current elections without anyone being redeployed or reassigned. These were the same people who committed treasonable offence against this country in what they called 2007 elections, which the major beneficiary the late President Umar Yar'Adua described as fraud. This same people were allowed to participate in the preparation and conduct of the 2011 elections.
So from the very beginning and from the deceit of direct capture machines, which INEC claimed would stop people from multiple registration but which had no capacity to do that, even though it was restated by Prof Jega himself to the Senate but it was a misleading position and claim which would have made him resign if it were in other countries. But he did not resign; rather he went ahead and committed many more fundamental and unacceptable atrocities from the point of view of the law, such as ignoring completely the law about election finance limit because it favoured the incumbent president, who has access to state resources. INEC also completely ignored the law about exclusion and he went ahead deliberately to pre-rig the election by excluding the candidates of Action Alliance. But if we had gone behind or had struck a deal with the incumbent, I am pretty sure that the Action Alliance would have been included in the ballot. The CNPP wrote a formal protest letter signed by Willy Ezeugwu about INEC bias and it not being clearly independent. How can you, therefore, have free, fair and credible election when the umpire is not independent? How can, for example, Rangers International Football Club play against Rancha Bees when a Rangers fan is the referee? So the whole election was fundamentally flawed from the very beginning.
Why would INEC remove the name of your party?
Well, I would have asked you to go to INEC to find out, but I will tell you what I know, which is that our national chairman Senator Suleman Salawu, went with all our nominations on January 31, 2011 by 2pm to INEC office for submission and obtain clearance. INEC received the nominations on that day but failed to issue clearance, stating, later in the day, that we were late. How could we have been late at 2pm on January 31? As the matter was believed to have been settled, INEC published in several newspapers that 11 political parties, including Action Alliance, had been admitted. In Saturday Sun Newspaper of February 5th 2011 with the caption: 8 parties shut out of April polls. In that report, INEC clearly stated that 11parties had been admitted and those 11 parties included Action Alliance. So INEC has been inconsistent with its own stories.
The same INEC subsequently claimed that there are factions in our party. None of these allegations of INEC, to say the fact, is true, even as INEC itself has not be able to substantiate or prove any beyond reasonable doubt. The most annoying part of the whole thing is that INEC corruptly sponsored a Phantom faction of known members of PDP. If you go to INEC website, including the updated one, you will find out that it clearly lists Senator Suleman Salawu as the national chairman of Action Alliance (AA), who was the very person that went with all our nominations for all positions numbering about 89, including that of the presidential candidate, which is myself and that of several governorship, senatorial and other national and state Houses of Assembly candidates to INEC office for submission.
The so-called INEC has inconsistently and corruptly continued to change its own stories from alleging that we were late to saying that there are factions in our party and by sponsoring known members of the ruling party to claim that they are faction of our party. None of these groups that claim to be factions of our party has neither secretariat, office or candidates.
INEC deliberately decided to exclude every credible candidate from the election, even as some of the so-called opposition are spurious parties sponsored by the ruling party that are used to legitimise fraud. Immediately after the election, they would shout it was free and fair and that they have conceded defeat, which is what they are sponsored for. If Action Alliance had agreed to play such role, we wouldn't have been excluded.
What measures have the leadership of Action Alliance taken to make INEC realise its disapproval of such exclusion?
The leadership of the party has taken many steps. The first was that on February 2, 2011, we wrote a formal protest letter to INEC chairman complaining about the attempt to exclude all our candidates in the election. This letter, which we have the acknowledgment copy has not been replied till date. Again, we had had several meetings with INEC leadership, three of which I participated in these meetings, we had agreed with INEC leadership that our nominations would be accepted with clearance issued, which, however, INEC never redeemed. Again on February 18, we filed a suit against INEC and as the National Assembly elections were approaching; we went to court again and got an order directing INEC to list our candidates and allow them to participate in the National Assembly elections but INEC violated this court order. Is that not lawlessness? Every society is built on laws, except in a jungle where there is no law and where might is right. There can be no free, fair and credible elections outside the law. The definition of free and fair is as established in law. So once the laws are violating, you are outside the boundaries of free and fair election. Therefore, what INEC has organized is not an election but an unlawful charade, a treasonable waste of public resources that amount to economic sabotage and treasonable felony. That is what INEC has done and it is completely unacceptable.
What is the possibility of justice prevailing in this case?
Justice will prevail. I can tell you this. Slavery was defeated; colonialism was defeated; racism was defeated; apartheid was defeated and this' criminocratic' system will equally be defeated; you can be sure of that. We are going to pursue justice until we get it.
The involvement of members of the academia in the elections has been commended by a cross-section of Nigerians. In your own view, what impact did their involvement make in the entire electoral process?
Well, to me, their participation did not make any meaning or special impact, only that they are qualified to participate because we do not believe in occupational bias. The people who have qualified to hold those positions, irrespective of occupation, can hold them and act according to the law. It is very clear that INEC as an organization has acted outside the law. The elections were conducted outside the law or unlawfully. Because INEC is lawless, election conducted by it is unacceptable and null and void morally and legally.
How did the 2011 election differ from previous ones held in the country?
During the actual election, security was robust, which is good but it became worse when the military and other security agents were corrupted and became partisan. In Enugu State, for example, a governorship candidate and his supporters were arrested. Also in Edo State, where an opposition party is in government, supporters and agents of the opposition government were equally arrested and the Governor of Edo State never minced word when he accused the military of being partisan. This was how the robust security was corrupted again to become something more dangerous. With the corrupt and partisanship of the military and other law enforcement agents, there professionalism have been lost.
In your opinion, what is the future of Nigeria's unity considering what is happening in the country today?
Nigeria will remain united, a good country and will function very well, but these corrupt and lawless deviations we have today need to be corrected.
What then is the way forward for Nigeria?
The way forward for Nigeria is a political solution that has to be agreed on by the political leadership of the entire country. But a few bold and great patriots have already made some recommendations for consideration. Prof. Ben Nwabueze, Nigeria foremost constitutional lawyer, has concluded that a revolution is the only way forward. This view was corroborated earlier by Dr. Tunji Braithwaite. Prof. Pat Utomi had called for a stop to the current criminocratic system and he has suggested in its place a government of presidential materials, which he called the Gowon Option and I understand this to mean an interim government. But we must get independent minded people of integrity to conduct elections and ensure that those who wasted several billions on this charade called 2011 election are made to pay for treasonable act.