VIOLENCE DOES NOT PAY-SENATOR KUTA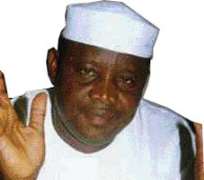 Senator Dahiru Awaisu Kuta, Deputy Chairman, Senate committee on Drugs and Narcotics, whose flag-off campaign rally in Suleja was thrown into confusion recently, wears the shoe and he actually knows where it pinches.
He did not mince words when he said in an interview that he was actually the targetof the bomb blast.He said politicians desperate for power were the ones responsible for the spate of bomb blasts across the country.
I learnt that a silver colored plastic material was found not too far from where my car was parked and that thing turned out to be the bomb that later exploded. Another story had it that the bomb was thrown from a car going towards the crowd and I don't want to take that. But whatever it is, if the security operatives were also interested in other areas in the venue, not just only where the rally was taking place, they would have been able to observe certain movements.
Much as I do not want to say that I was the target but that bomb was placed in a strategic place near my car and it exploded immediately my car was about to take off. The impact of the explosion shattered all the windscreens of my vehicle, the front and back. Seeing how close the bomb was placed to my car, I am feeling that maybe I was the target but again, the governor and other top dignitaries were there.
The bomb exploded just when my car was taking off, it brought more suspicion that the target was me and because one way or the other, the rally was because of me also because the bomb exploded where my car was and when it exploded, my car was the only one that was seriously affected. All these goes to say that I was the target but looking at it from a wider perspective, it was not aimed at a particular person. Again by their calculation they really wanted a massive explosion that will kill so many people and destroyed so many things. Not just only me because I was there, not just because of the rally, maybe it was a massive attack on PDP supporters.
Kuta, in an interview in Kagara, Niger State gave an insight into who were likely to be responsible for the dastardly act observed with regret that those behind the ugly incidents were aware that they could not win election hence their desire to cause confusion. According to the senator, they are desperate politicians who would stop at nothing to win elections including killing innocent people.
According to Kuta, those behind the bomb blasts could only convince  their paymasters that they were in control by throwing bombs and in the  process create confusion. Many of these Nigerian politicians are lazy people. They have not done their home work and they are assuring their godfathers that they will win the election when they know that they are not actually with the people.
There are people who are just sadists, these bomb throwing are also orchestrated by people who are frustrated in life, people who just feel that nothing good should happen in this country, there are those who are happy to see other people suffer. Kuta also blamed the incident on some Nigerians whose rights have been trampled upon and those whose efforts are not recognized at all and the only way to vent their anger was through this type of thing.
The senator however said that the incidence of bomb blasts across the country was already on the decline because people have come to realize that they know the quality of their lives, stressing that time will come when people will no longer be used to commit this type of crime, gradually this incidence will ease out.
We all know that violence does not pay, violence is not necessary violence is not a means to win election