ASU EKIYE BREAKS US, EUROPE TOUR FOR JONATHAN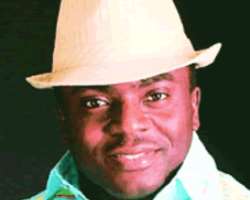 • Asu Ekiye
For the love of President Goodluck Jonathan, Niger-Delta-born gospel star, Asu Ekiye, had to cut short his on-going one month world tour with his full band after thrilling fans in US and Europe, for almost a fortnight.
The five-nation tour, which saw the accountant-turned entertainer rocking music lovers in over a dozen cities in countries like the UK, US, Switzerland, Germany and Holland, ended abruptly when Ekiye decided to come back home to vote in the presidential election.
Ekiye, a strong member of the Artistes United for Jonathan, whose tour was powered by More Than Music Ministies, a leading gospel promotions outfit with heavy presence in both the US and Europe, said he was happy Jonathan won in a landslide victory.
'I thank God that my coming home to vote was not in vain. It was a painful decision cutting short my world tour, but that was the only option left for me. I will go back soon to complete the tour. I came back because a vote for Jonathan was a vote for a progressive, prosperous and united Nigeria.'
While on the first leg of the tour, the award winning and accomplished singer, who recently concluded an empowerment programme for some selected youths in all the nine states of the Niger Delta region, was interviewed live by Trinity Broadcast Network (TBN), in their US studios. Ekiye who equally plans to launch his fourth album, Eniye (Its Mine), while on the second leg of the US tour, said the album would be used to further glorify God and his good works in his life and that of his teeming fans and supporters globally.