I'LL PROBE AKALA -AJIMOBI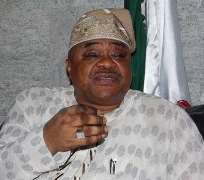 Oyo State governor-elect, Senator Abiola Ajimobi, talked tough yesterday, hinting that he would probe the outgoing administration of Otunba Adebayo Alao Akala, when he assumes office in May 29.
The governor-elect, who had always criticized the Akala regime for alleged profligacy and corruption, however, promised that the exercise would not be a witch-hunt.
The declaration came as the state cautiously crawled out of a tensed mood that had prevailed since Wednesday's announcement of Ajimobi as winner of the Tuesday gubernatorial election. Ibadan, the state capital, had witnessed an unofficially announced curfew, following fears by Peoples Democratic Party (PDP) supporters, whose stranglehold was broken with the release of the polls result.
Early yesterday, traffic was light on major roads, while private businesses opened late, with government offices deserted.
Life and boisterous activities only picked up in the metropolis after broom-wielding and ecstatic Action Congress of Nigeria (ACN) supporters went round in a convoy of cars in jubilation over their man's victory. Addressing reporters in a post-election press conference at his Oluyole residence, Ajimobi premised his intention to audit the state government's finances and administration on the need to ascertain where to take off and intervene meaningfully in the lives of the people of the state.
His words: 'When you take over an organisation, and government is such an organisation, there is always the need to do a review to know where you are coming from and where you are going, because if you don't know where you are coming from, you can't know where you are going, call that a probe if you like, but we are not going there to probe anybody in the sense of witch-hunt. In fact, I don't like the word probe. Stocktaking is more like it. But, if we find anything missing, we'll shout.'
Ajimobi, whose house was throbbing with drumming, singing and dancing by streaming crowd of supporters, saluted Governor Akala, Senator Rashidi Ladoja of the Accord Party and other party candidates who contested the election with him for giving him 'a good fight', and extended his hand of fellowship to them in moving the state forward. To this end, he said he planned to form an all-inclusive government with a mission to redeem, reform and reposition Oyo and put it in the league of prosperous states.
'Ours will be a rainbow coalition government … Even God is a God of rainbow. In His creation, He has allowed both the good and bad people to co-exist. But ours will be that of redemption, transformation and reformation,' he further explained.