NIGERIA -LETS' BREAK UP THIS UNION OF DEATH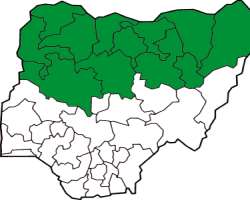 Our nation – this marriage of variant people groups has become a union of death. Let's tear it down – Dr. C. K. Ekeke.
"Life is terribly deficient in form. Its catastrophes happen in the wrong way and to the wrong people." - Oscar Wilde.
The Crucifixion of Christ was brutal and barbaric. It is the vilest atrocity of mankind – Dr. C. K. Ekeke.
He said, It is finished!" And bowing down His head, He gave up His Spirit - John 19:30.
"Where, O death is your victory? Where, O death is your sting?" – 1 Cor. 15:55
I must make these assertions before hand: please do not write me after reading this piece to remind me that I'm a reverend, Man of God, Priest, Prophet, Pastor, Jesus representative, and that I suppose to be preaching peace. I'm not Jesus or God. Jesus at one time fought in the Temple. The Angel of Light rebelled in the heavens and there was war, which caused him to vacate the inner Throne of God - heaven. I will take to heart your criticisms – positive and negative as well as your insults. This piece is not a call: Let's Crash This Democracy - Nigeria Is Dying – made earlier this year by Professor Pat Utomi, even though he was right. His call is a justifiable call because of the totalitarian statecraft of our nation's democracy, in which power is concentrated in the center. It is not even another call by most admired professor Okey Ndibe: "Time to Destroy the Nigerian Temple", which attracted some criticisms including a controversial writer, Mr. Remi Oyeyemi. Prof. Ndibe was right also in his call to destroy the idolatrous group of Hausa/Fulani Oligarchy, North Caliphate, Kaduna Mafia and the group of greedy, visionless, and myopic politicians that have held our nation hostage. Instead, mine is a sincere call for us to examine the Nigerian nation, which is a union created for the economic and political benefit of the colonial masters. This union or marriage has been committing adultery and getting away with it. It is an idolatrous and adulterous marriage that has produced many sons and daughters that are angry, frustrated, depressed and hopeless. This marriage lacks trust, genuine love, respect and integrity. Why continue to stay in this kind of marriage or union?
But first, I congratulate Dr. Goodluck Ebele Jonathan and Engr. Namadi Sambo for their heroic and historic win of the 2011 presidential election. The 2011 presidential election has been hailed as very transparent and most credible election since Nigeria's tortured history. For the first time in our nation's history – four geopolitical regions out of six voted overwhelmingly for one candidate – in fact beating the 1993 presidential elections won by Chief MKO. President Jonathan and Vice-president Sambo won more than 25% in 31 states and in overall votes cast in the presidential election. Their win is a clear mandate by majority of Nigerians, who voted for the two gentlemen rather than for their party.
Second, I congratulate the Independent National Electoral Commission (INEC), Professor Attahiru Jega and his team for the superb job. I must also congratulate the Youth Corps – the young men and women who were deployed to serve in this election. Their courage and dedication to serve their nation is highly admirable. Nigeria is proud of your hard work and professionalism. Finally, I congratulate all Nigerians – especially the voters, who went out en-mass despite threats of violence and disappointments to cast their votes and demand that it be counted fairly well. This is a new beginning, a trajectory of a new Nigeria, where citizens can now choose leaders they want preside over the affairs of their nation and their life without bias and rancor. I pray and hope that president Jonathan will lead with integrity, strength, courage, and compassion and as the leader of a new Nigeria will make effort to treat all with respect, fairness and equity. May he truly be the transformational leader that he aspires to become!
However, I'm not particularly happy that PDP is still in power. I am rather disappointed that he opposition parties - mostly ACN, CPC, ANPP, APGA, and others failed to work together to form a formidable alliance against PDP and if they would not sheathe their egos and self-importance and unite, former President Obasanjo's prophecy may come true one day. Nevertheless, I am satisfied that Goodluck Jonathan won. He sounds sincere, honest and aspires to write his name in the annals of history. I believe that he will not disappoint the Nigerian people that have given him such an honor to be their president.
It is rather unfortunate to witness the mindless violence and senseless killings of innocent Nigerians in some Northern states especially - Kano, Kaduna, Bauchi, Gombe, Plateau, Zamfara, Taraba, etc. It is really sad that over 300 souls have been killed tragically, thousands displaced, Church buildings burnt, market places vandalized and destroyed, businesses, homes, and properties worth billions of Naira burnt to ashes because of unfavorable election result. These mindsets and actions are undemocratic, crude, primitive, and uncivilized. It is regrettable that some irresponsible political desperados and poverty stricken young people are brainwashed and used to perpetrate this kinds of heinous violence and cowardice acts against innocent Nigerians. Despite these dastard threats and acts of vandalism, majority of Nigerians must standup to defend the mandate that has been given to Jonathan/Sambo. The international community and world powers will not permit undemocratic forces and violence to have its way in Nigeria and most Nigerians will not tolerate it anymore. These fanatical leader and followers alike ought to see what is going on in the world – Tunisia, Egypt, Libya, Laurent Gbagbo of Cote D' Ivory and his followers.
Instead of Nigerians to rejoice and celebrate on what is considered to be the freest and fairest election in the history of Nigeria, some hooligans went on rampage to kill and maim innocent citizens living amongst them. As far as I know, Alhaji Muhammadu Buhari, Mallam Nuhu Ribadu, and Mallam Ibrahim Shekarau have not issued a statement to reprimand the rioters, who are clearly young Muslim men, not to talk of congratulating President Goodlukc Jonathan, which should be the honorable thing to do. Even their vice presidential candidates have not had the wisdom and audacity to do so, including our prophet and seer, Pastor Tunde Bakare. It is sad indeed.
It is equally sad that our political culture has become a culture of impunity, greed, covetousness, money worshippers, egotism, avarice, envy, hatred, jealousy, immorality, idolatry, atrocities, ignorance, witchcraft and occultism. Political rituals, divination, astrology, sorcery, witchcraft, magic, and all manners of evil and satanic manipulation are the order of the day in today's Nigeria political landscape. Our past and present governments are idolatrous systems and totalitarian statecraft in which power is concentrated in the center. The political landscape is a perilous political environment that bares honest and capable people from running for political office. Political thuggery, cultist associations, satanic worship, violence, and killings are so rampant in our political space and culture - imagine a nation of over 250 ethnicities and more than 50 political parties! What a national dilemma and political nightmare.
No sincere and honest person can risk dabbling into such political muddle. Nowadays, people who could not pass high school and first leaving certificate are being appointed state commissioners for education, health, finance, etc. It is only in Nigeria that Senators earn 250 million Naira annually, while the government finds it very difficult to pay 18,000 Naira minimum wages to office workers. Villagers and rural towns have nothing to show for the millions of Naira awarded for constituent projects. The so-called leaders of people will rather invest their loot in Europe, America, and Dubai in landed properties, building estates, hotels and other businesses than investing in their nation. We have really become a degenerate society and cursed people. All around our towns, villages and cities - young and old are dying each day like chickens by ethnic hatred, tribalism and injustice, tragic deaths, man-made, terrorist attacks, conflicts , violence – religious intolerance, ideologies, race wars, sex wars, political wars, economic wars, class wars, diseases, and health epidemics.
The empires now called Nigeria was once made of variant people group that lived in peace and traded with each other in peace and harmony. The coming of the white man to colonize, subjugate and dominate this vast area for their economic and political purposes changed all that. These variant groups of people with profound linguistic, cultural, religious and even political differences were coerced to amalgamate into one country. A name was chosen for the people without due consultations. Since then, this marriage of convenience has been very problematic and difficult to manage especially after they were granted freedom and independence to live together and govern themselves. The marriage became more turbulent following the 1960's political crisis, tribal and religious killings that led to unforgettable genocidal civil war of 1967-70 in which more than more than three million lives were massacred. That bitter civil war left an unforgettable anger, bitterness and hatred among the peoples of Nigeria. Even the end of war slogan "No Victor No Vanquished" could not bury the tumultuous and fractured history of a people that had been traumatized and to live peacefully and to trust each other became a very challenging problem to fix.
Nigeria has become a den of death, of sorrow, sadness, pain, suffering and hopelessness – a lawless and a failed nation where Satan and Spirit of death reign supreme. We have become an embodiment of a degenerate society, according to Dr. Joseph Nanyen Garba, - a degenerate race of a people. We are simply educated fools borrowing from Chief Olusegun Obasanjo. For fifty years now, this marriage of convenience has never worked. Conflicts – religious, tribal hatred, cultural and linguistics differences, political ideology, etc., have always been part of this satanic marriage. Anger, bitterness, animosity, hatred and lack of trust have been part and parcel of this marriage. There has been never been any trust and love in this marriage. It is an idolatrous marriage in which the North continues to cheat her spouse and get away with it. The marriage is only paying handsomely to a group of Hausa/Fulani Oligarchy and the Northern Caliphate. Moreover, this marriage has produced many angry sons and daughters, children filled with anger, frustration, depression, and hopelessness. Why continue in a marriage that has no love, respect and trust? Why stay in a marriage or union, where trust is completely lacking between the varying couples. Why continue in a marriage where, there is no love, respect, honesty, integrity and trust – where only one region benefits from the wealth and resources of the union? This marriage can be broken peaceably and amicably – why not?
This amalgamation of Nigeria is a false and forced union, a merely geographical expression, according to the late visionary leader, Chief Obafemi Awolowo. Other notable visionaries and leaders of thought have also referred the Nigerian nation as merely a political expression for the economic and political interest of the colonial master - Britain. The amalgamation of Nigeria as a nation is an issue that must be addressed if we really desire to live in peace and fulfill our destiny. I believe that without genuine forgiveness and reconciliation, there cannot be order, unity and peace in our country. We cannot move forward as a nation and fulfill our common purpose and destiny if ethnicity, tribalism and injustice are not addressed in our country. We truly need a national identity that harbors ethnicity and discourages tribal identity or we break the Union.
The Holy Scriptures clearly teaches that righteousness and justice exalt a nation. Righteousness and justice are the foundation of any nation. No nation can flourish; have order, peace, security and prosperity without righteousness and justice. Justice is ought to be a prominent concern of any credible leader who loves and cares for the citizens. But that has not been the case in Nigeria as far as I can remember. Ours has been a society barricaded by injustice, an openly conspicuous in the manner in which the nation's revenue are shared, award of business contracts, infrastructural development and obviously distribution of political positions. Instead of our leaders to administer justice, they mete injustice on the poor, children, elderly, widows and minorities. No nation can truly flourish if she treats her people that way. Injustice is sin before Almighty God and He hates it with a passion. The day of reckoning is here and God is about to punish those that promote and perpetuate injustice.
I appeal to the so-called Nigerian stakeholders and religious leaders to work together to ensure that Christians, Moslems and paganisms become partners in this 21st century rather than enemies in solving the social, economic and political obstacles facing our nation? They must work together to hold our government leaders accountable to the promises and principles of fairness, justice and equity. They must be involved in shaping public policies, laws and decisions that will help the Nigerian people to fulfill their God-given purposes on planet earth. Our religious leaders must work together to educate their followers about tolerance and peaceful cohabitation? As human beings we do not grow in isolation rather we grow, develop and mature as people in the context of love, relationship and fellowship. And until we learn the cardinal principle of Islam and Christianity, which is forgivingness and reconciliation, we will never live in peace. Without genuine forgiveness and reconciliation, there cannot be unity and peace. Another cardinal truth of Christianity and Islam is love and without love, we cannot have genuine relationship. Relationship is the most vital aspect of life. Relationship is in fact the greatest human asset. Character, courage, love and relationship are the greatest assets of every major faith in the world.
Death on the Cross - the Finished Work of Christ
As Christians around the globe observe the death and celebrate the Resurrection of Christ, the biblical significance of Christ crucifixion remains the central message of the Gospel news. The crucifixion of Christ is the means by which God provided salvation and forgiveness for the sins of mankind. It is a supreme demonstration of God's love toward sinful mankind (John 3:16). The prophet Isaiah summarized the human condition: "We are all like an unclean thing, And all our righteousness are like filthy rags" (Isaiah 64:6). Even the high priest, Joshua, in his exalted position among the God's people, was clothed in filthy rags before God (Zechariah 3:3). The apostle Paul, who labored arduously to be righteous before God, realized that his most strenuous efforts to please God were no more valuable than rubbish (Philippians 3:4-10). The plight of humanity is that nothing we could ever do could satisfy God's desire for righteousness. But the miracle of God's mercy is that God exchanges our filthy rags for rich robes of righteousness (Zechariah 3:4). In this awesome exchange, God placed the sin of humanity upon His righteous Son. Jesus became so identified with our sin that Scripture says God made Him to be sin on our behalf. Christ bore the excruciating pain of our sin upon the cross. He endured the worst physical and spiritual suffering on our behalf.
Christ sacrificial death on the cross was for the forgiveness, justification and redemption of lost humanity. The precious blood of Christ was shed for the remission of sin. It is a perfect and efficacious act that satisfied the demand of God's holiness for ever. The message of the cross is a supreme act of God to help the afflicted, heal the wounded and reclaim lost humanity. It establishes Christ reign all over the nations, provides eternal life and activate the exaltation and glorification of Jesus as King of Kings and Lord of Lords.
Jesus knew that those who crucified Him were ignorant men. That was why He prayed to God to forgive them despite the horrendous pain, humiliation, suffering and torture that were inflicted upon Him on the Cross? Jesus knew that He would endure suffering, humiliation and death for the sins of the whole world (Isaiah 50). Jesus also knew, that was why He prayed, "May this cup be taken from me, yet not as I will, but as you will" (Matthew 26:36-46). On the Cross, Jesus suffered physical pain as well as spiritual separation from God. The later was more painful and emotional draining than the physical suffering. However, He prayed that His physical death might be accepted as full payment for the sins of the world. His physical suffering involved tremendous physical abuse. He was spit, struck, slapped (Matthew 26:55-67). He was brought before Annas and Caiaphas, the High Priest of Sanhedrin, Jewish ruling council. He was blinded folded, mocked repeatedly, spat on and struck in the face by the people. Then he was brought before King Herod. This was his religious trial. This is the same Herod who had John the Baptist (Jesus' cousin) beheaded. Because Herod's heart was so hardened, Jesus refused to speak to him. In anger Herod and his men mocked Jesus' claim to be the king of the Jews. Then He was brought to Pilate, the Roman governor in Jerusalem to be interrogated. This is considered his civil trail (Matthew. 27:1-26). Pilate was the Roman Governor General in Jerusalem at the time of the Passover. Jesus was brought to him because under Roman law the Jews could not legally carry out the death penalty. The people asked for the release of Barabbas, who was a thief and who had caused all kinds of rebellion and insurrection in Jerusalem to be released and Jesus, who did not do any thing whatever to be crucified. Jesus was released to the people and they flogged him, scourged and handed over to be crucified. The Roman flogging consisted of the victim being stripped and stretched against a pillar or bent over a low post, and the hands tied. The flogging resulted in the flesh being cut into the veins; arteries and sometimes even inner organs were exposed. Often the victims died during the flogging. Roman flogging was a hideous torture. The inability of Jesus to bear his won cross was no doubt due to this severe infliction. That was why, the prophet wrote, "But he was pierced for our transgressions, he was crushed for our inequities; the punishment that brought us peace was upon him, and by his wounds we are healed (Isaiah 53:5). Then Jesus was mocked, untied and placed in the middle of the Roman Company. The soldiers put a robe across his shoulders, placed a stick in his hand and pressed a circle of branches covered with thorns on his head. The soldiers mocked him and strike him across the face and head, driving the thorns deeper into his scalp. He was lead to be crucified while they continue to hurl insults at him (Matthew 27:27-44).
After nine hours of excruciating pain and agony, after being scourged and humiliated, six hours of handing on the cross and nine hours of standing on his feet, Jesus gave up the ghost with a shout in clear, ringing triumphant voice, "It is finished." The price for our redemption has been paid in full for ever. The sacrifice for sin for all mankind has been paid in full. Sin was forgiven. Guilt is atoned for. Eternal life is now freely offered to all who will accept it and confess Jesus as Lord and Savoir. Heaven has been opened. It is finished. May it be finished for Nigeria, with the death of innocent lives, unfulfilled precious lives?
Oscar Wilde, a novelist and poet, wrote, "Life is terribly deficient in form. Its catastrophes happen in the wrong way and to the wrong people."
I wish the families that lost their sons and daughters in the mayhem in the Northern Nigeria, God's peace over this sudden and unexpected deaths, destruction and vandalism of businesses, of places of worship, homes and other properties. Our hearts, sympathy and condolences are with you and your loved ones over the incalculable loss. May God will dry your tears and fill you with joy knowing that your sons, daughters, husband, mothers, etc have entered into everlasting glory, where there is no more pain, sorrow, injustice, evil or wickedness.
In his book, a Call to Conscience, Dr. Martin Luther King wrote, "Death is not a period that ends the great sentence of life but a comma that punctuates it to more loft significance. Death is not a blind alley that leads the human race into a state of nothingness, but an open door, which leads mankind into life eternal. Let this daring faith, this great invincible surmise; be your sustaining powers during these trying days.
Dr. C. K. Ekeke is a theologian, author, consultant and leadership scholar.
Disclaimer:

"The views/contents expressed in this article are the sole responsibility of the author(s) and do not necessarily reflect those of The Nigerian Voice. The Nigerian Voice will not be responsible or liable for any inaccurate or incorrect statements contained in this article."
Articles by thewillnigeria.com