KWARA GUBER: HOW GOV. SARAKI DUSTED FATHER, SISTER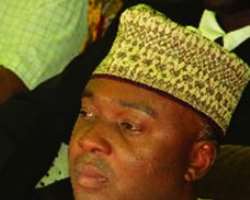 Kwara guber: How Gov. Saraki dusted father, sister The Peoples Democratic Party (PDP), has won the Tuesday gubernatorial election in Kwara State. Its candidate, Alhaji Abdulfatah Ahmed, polled 254,969 votes to defeat his the Action Congress of Nigeria (ACN) counterpart, Mr Mohammed Dele Belgore (SAN), who scored 152,580 votes.
Senator Gbemisola Rukayat Saraki of the Allied Congress Party of Nigeria (ACPN) had 72,456 votes and the Congress for Progressive Change (CPC) candidate, Alhaji Abdulrazak Abdulrahman, came fourth with 10,042 votes.
The election results announced by the Returning Officer, Prof. Rasheed Aderinoye, showed that Ahmed scored the highest number of votes and the mandatory 25% in all the 16 local government areas.
The breakdown also indicated that the PDP won 22 out of the 24 seats in the House of Assembly. The ACN won the remaining two seats in Offa Local Government Area.
One of the highlights of the results is that in Agbaji, Ajikobi polling unit, Ilorin West council, where Dr. Olusola Saraki, his daughter, Gbemisola and son, Governor Bukola Saraki voted, PDP polled 268 votes, ACPN 180 and ACN 178.
After casting her vote, the elder Saraki of the ACPN alleged that the election was 'massively rigged. I have never seen an election so massively rigged like this one since I have been contesting elections in my life.'
In the outstanding House of Representatives election for the Irepodun Federal Constituency, the ACN candidate, Revd. Bunmi Olusona, won with 10,454 votes to PDP's Akeem Ayeidun who polled 10,254.
Meanwhile, out-going Governor Bukola Saraki, congratulated Ahmed 'on his overwhelming victory at the polls.'
He described Ahmed's victory as 'the greatest thing that had happened in the state in recent times and commended the people for their support and for collectively speaking with one voice.' Saraki urged the governor-elect to extend his olive branch to the other opponents in the true spirit of democracy. He also urged the people to extend their hands of cooperation to Ahmed in order to enjoy more dividends of democracy.