5 Feared Killed, Many Wounded in Akwa Ibom Guber Race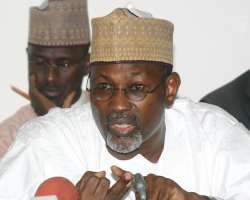 INEC CHAIRMAN PROFESSOR ATTAHIRU JEGA.
UYO, April 26, (THEWILL) – Security reports reaching THEWILL indicate that at least five (5) persons may have been killed and many others wounded as a result of electoral violence in Ibiono Ibom, Nsit Atai and Uyo areas of Akwa Ibom State.
Though security was tight statewide our correspondent gathered that the violence resulted when heavily armed youths suspected to be members of the ruling People's Democratic Party (PDP) stormed some polling units in Ibiono to snatch ballot boxes and in the process shot sporadically killing three persons.
In Ibiono ward 5, unit 5 in particular, some youth corps members who were used as ad-hoc staff for the exercise were seriously wounded.
Also in Nsit Atai, two people were reportedly killed in similar circumstances, even as a victim who was shot in Uyo, the state capital was taken to an undisclosed hospital for medical treatment.
The Assistant Inspector General of Police (AIG), Mr. Mohammed Abubakar who spoke to some journalists on the issue while in the state to monitor the elections, denied knowledge of the killings, saying he was yet to receive the report from his officers on the field.
In Utu Ikot Eboro word 1, Etim Ekpo local government area, an ACN supporter narrowly escaped death as he was descended upon by youths suspected to be members of PDP as he attempted to vote for the opposition, but for the timely intervention of the state commissioner for Housing, Mr. Emmanuel Enoidem, who is a political leader in the area, the story may have been different.
According to the victim who was bleeding from both his mouth and nose when pressmen visited the polling unit, he explained that he was asked while on the queue whom he wanted to cast his vote for. "When I said I was going to vote for ACN, they started beating me, over 20 people. They were hitting me from all angles," the man told pressmen at the unit.
Mr. Enoidem who also spoke to journalists however admitted that there reports of violence in some units in Etinan, Nsit Atai, Etim Ekpo, and Uyo etc resulting from some misunderstandings among PDP members mostly arising from money sharing.
In Uruk Atta Ikot Akpan word 4 unit 7, he said the Ward Counselor was accused of shortchanging the electorates who refused to be accredited nor vote unless they were given their share of the N250, 000 that was budgeted for the unit by the politician.
In Ema Itam ward 6 units 3 and 4, THEWILL gathered that electoral materials did not get to the units as the polling agent was slapped and materials hijacked right at the INEC office in Itu Local Government Area, hence there was no election there.
Elections generally in Itu was characterized by hijack of electoral materials by the ruling PDP even as normal elections did not take place in so many polling units in the council area.
A wounded member of the NYSC working as ad-hoc staff of INEC receiving treatment at Immanuel General Hospital after he was assaulted by armed securitymen in Eket today April 26, 2011. Credit: NAN.
Members of the NYSC on election duty rally in support of wounded colleague at the hospital. Credit: NAN.
Commenting on the general conduct of the exercise, the Akwa Ibom North West Senatorial candidate on the plat form of PDP, Hon. Ita Solomon Enang had expressed worries that INEC may record too many void votes at the end of the elections as the voting process appeared to be cumbersome for the electorates.
Enang who bared his mind to a section of journalists in his pooling unit at Ibiono Ibom explained that he had expected that ballots for the three elections conducted today would have been dropped in three customized ballot boxes which would have made for easy identification by the electorates as well as reduce the stress of sorting and counting.
The candidate who is presently the member representing Itu/Ibiono federal constituency in the federal House of Representative stated further that the constituencies were not indicated on the ballot papers which made it difficult to locate logos of the parties.
He envisaged that such would account for many void votes as illiterates and impatient voters will not take such time to identify where to thumb print.
"I had thought that today being three elections: gubernatorial, senatorial and the state House of Assembly, that there will be three ballot boxes where a person will cast his vote, but a situation where all the votes will be cast in one box, and is left for the INEC officials to sort out the votes for the three separate elections, then sort out votes for each party before they start counting then coalition I think that will have a negative effect on when the result will be released," he stated.
Hon. Enang, who is the Chairman House Committee on Business and Rules, expressed satisfaction over the general conduct of the exercise and pointed out that he was sure of victory at the polls promising to be more resourceful to the indigenes of Uyo.