OYO GROUP ACCUSES AKALA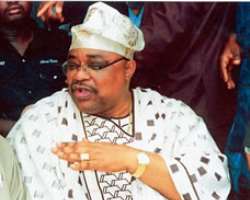 A socio-political group in Oyo town, 'Oyo Renaissance Group', has accused Governor Adebayo Alao-Akala of political fraud with the use of old footages of the Alaafin of Oyo in his political campaigns.
The group in a statement by its president, ,Alhaji Ajisafe Akanmu,,said the footage, which is being aired on the state's television station, which portrays the Alaafin of Oyo, Oba Lamidi Adeyemi III, as praying for the success of Governor Akala in the 2011 gubernatorial election was a fraud.
The group said, 'The truth of the matter is that the footage was recorded during the campaign for the 2007 elections. The monarch offered the prayers in expectation that Akala will deliver the dividend of democracy to the people of Oyo State. After four years of Akala's rule, there is no gainsaying that Akala has failed woefully to deliver the much-expected dividend of democracy to the people.
'In the four years that Akala has been in the saddle, he failed in every respect of governance including provision of quality education, health services, provision of roads, protection of lives and property etc.
'It is therefore understandable that the people of Oyo state including the foremost traditional rulers like the Alaafin of Oyo,the Olubadan of Ibadanland, the Okere of Saki and many others are opposed to the return of Akala to Government House on May 29,2011.
The group said the four years of the Akala administration has been troubling years for the traditional institutions of the state because of Akala's meddlesomeness in the institution. In Ibadan,Oyo and Saki, for instance, Akala appointed and promoted village heads without the consent of the foremost traditional rulers. This has resulted in the running battle between his government and the Alaafin,the Olubadan and the Okere of Saki',the group stated.
' It is therefore inconceivable that the Alaafin as Chairman of the Oyo State Council of Obas and Chiefs will endorse a candidate who has pitched himself against the royal fathers of the state',the group asserted.