'BUHARI CAN STILL BE PRESIDENT IN 2015'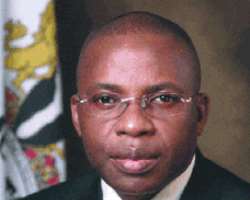 Governor Ikedi Ohakim of Imo State was at the presidential villa, recently to congratulate President Goodluck Jonathan on his victory at the just-concluded presidential polls. He took time to review recent political happenings in the country and shared his thought on the Tuesday's governorship polls and his vision for Imo in this interview with State House Correspondents in Abuja.
What was the magic behind the unanimous support for President Jonathan by Igbo during last Saturday's presidential election?
Thank you very much, but before I answer your question, let me take this opportunity to commiserate with families of those who lost their lives following reactions that trailed the presidential election.
I want to also seize this opportunity to appeal to political leaders that if you push a car down the valley without a driver, the force that will be generated by that vehicle will be impossible for you to control as a leader. The vehicle you pushed down the valley has now gone in to cause some damages, it is incumbent on you to go into the valley to see the extent of damages you have caused and whether you can recover the vehicle. That is my appeal to our brothers in some parts of the northern states. Although statistically speaking, the disturbances are less than five per cent of the entire states of the federation.
On the performance of Igbo during the last presidential election, I must say that Igbo have been stereotyped in this country for several years; so the modern leaders of the Igbo nation decided, for the first time in history, that we must all work from the same page. During the process that led to this general elections, we looked backward and saw that between 1999 and 2007, the Igbo played divisive politics. Every Igbo governor either became a presidential candidate or vice presidential candidate.
The Governorship Forum of Igbo nation collapsed; the South East people never met; people were fighting one another and brothers were killing one another. At the end of the day, we got practically nothing and attracted no project from the Federal Government to the entire South East. We now decided under the leadership of Governor Peter Obi of Anambra State that we will not vie for the presidency of Nigeria at this time and that we will not even accept the vice presidency from anybody during this dispensation but rather we will work together as a unit to support the candidate that have the interest of Igbo at heart. You will see that the journalists that attacked us are mostly of Igbo extraction. But the good thing is that after some time we were able to convince them.
The media branded me all sorts of names, but those things did not disturb me because what is important is the connection between the Igbo nation and our youths. The Igbo man has suffered a lot. If you see what is happening in the North today, the business of Igbo is suffering. We are pan-Nigerian. We want peace, unity and the tranquility of this country more than any other section of this country.
Ninety per cent of those within the productive age in Igbo land are living outside Igbo land. We are Diaspora Nigerians. And if you look at the votes in Lagos, Igbo contributed nothing less than 50 per cent of those votes we gave to Mr. President. Similarly, when you look at the 25 per cent votes Mr. President got in the North, Igbo contributed majority of those votes. Therefore, you will agree with me that Igbo contributed substantially for the emergence of President Jonathan, who, by the way, happens to be an Igbo son, whether anybody likes it or not. We are not talking about tribe here? This is a man that has the liver and what it takes to handle the Nigeria of today.
We were told to go and vote for whoever we wanted. Nigerians went out and voted. There is no election in the world that is 100 per cent perfect; what we are looking at is substantial compliance and this election met this standard, according to the reports of the international observers, who were here to see things for themselves during the election. Igbo have now come out and said we do not want stereotyping, we want to work for the unity of this country. In terms of land size, we are very small. In terms of population, we are, if not the largest, second biggest. But I know we are the largest, but we must bring everybody together, we must work for our youths.
What is happening in the North will teach us one lesson; that we must never allow the youths to stray about. That was why I propounded the hypothesis on how to address the problems of Almajiris in the North. If we do not address this issue, between now and this next five years, the average Almajiris will have hit the age of 25 to 28 and it will become impossible to bend them. We would have problems in our hands. A keg of gunpowder, I must say. So, we must begin to address the issue of disconnect between the youth and the leadership not only in the North, but in all parts of the country. We must look for fire service now before the petrol tank busts. We must remove the vehicle.
The youths that are burning down houses are the people that are going to suffer. Look at the cost of the damages. They burnt the house of Ghali Na'Abba, a great political leader of this country; yet, the man is laughing. He has forgiven them. That is a great example of how a leader should act. Those who are angry should use the next election as an opportunity to express themselves. There will always be more elections. My worry is that if you study the picture of those who were used to cause these damages properly, I was shocked to note that about 75 per cent of them are under aged children and I wonder who could be allowing these under aged people engage in this kind of act.
What are you doing to protect Igbo traders who are exposed to danger in those areas?
Let me first of all appeal to them to be calm. We have met here at our level as governors and issued statements calling on northern political leaders to intervene and protect our people. And as you can see, it is not just Igbo alone who are affected; prominent northern politicians are also being affected, as I said earlier.
On our own part, we have assured them that nothing will happen to any northerner in our area. We are in touch with our youths and so far we have not had any ugly incident here and I am sure, we will not have. Nothing will hurt any northerner in Igbo land. I am in touch with the youths, with our leaders and the northern community here to assure them that nothing will harm anybody. No type of provocation will force my people to react. I have also appealed to leaders in the North to make sure that no harm befalls our people and so far we have been achieving results.
The Federal Government has also acted promptly by dispatching security men to take charge of the areas; so there is nothing to fear at all. Even though we are not playing tribal politics, it is disheartening to note that for anything that happens in this country, the Igbo man will suffer; we have told them that, that will not happen again. Enough is enough. We will protect every person in Igbo land and people should reciprocate accordingly.
What is your reaction to the way the issues are being handled by the political leaders in the North?
I must commend them for coming out to issue statements. I want to commend General Muhammadu Buhari, a man that I admire so much, who visited Imo State recently and I interacted with him. I know that he has a lot for this country and he can do it from any prism, on any pedestal, whether he is president or not.
He has issued a statement denouncing violence, calling everybody to order. But the vehicle has been pushed down from the cliff, all we need to do is go down to the valley, recover the vehicle and assess the damage already caused. All political leaders, including all traditional rulers, must make sure that we do not ignite fire or unleash a force we cannot control. It will be an ill-wind that will blow no one any good, so that we can collectively go out on Tuesday and vote for our governors.
We saw a particular trend during the National Assembly elections and during the presidential election a different trend emerged. Are you optimistic that the trend coming during the governorship election will favour you?
Well, I do not know why you are asking me this. What do you want me to say? Do you want me to say that it will not favour me? Now whether anybody likes it or not, if you see the statistical movement, if you plot a histogram, you will see that it will favour me. If you take a look at the hypothesis of bandwagon effect, you will see that it will favour me. If you look at the efforts at putting my people on the national grid, you see that it will favour me.
Similarly, if you take a look at the centre table of power, what has happened in this election, you will know that we are at the centre table of power, where the cake of Nigeria is being shared and our people will not like to be at the boys' quarters; they will like to be at the centre. My people are so educated and so enlightened now that they know that with little resources, the only way we can develop now it to remain connected to the centre.
This is the new political style which has attracted a lot of dividends to us.
Since 2007, I have attracted projects in excess of N200 billion to Imo State alone from the Federal Government and more is coming; we had not done that since the creation of Imo State, since 1976. Now to answer your question directly, the political trend we are experiencing today, is very, very informative and very educative. And it gives special lesson to our people. People must apply science to politics there is no more armchair politicking.
To win election, you must have the necessary structures on ground. People must no more be interested in what I call evangelistic politics or 'soup pot,' where, when soup is hot, it will be coming out with steam and if you put it in your mouth, it is very sweet but when it becomes cold, it will become sour. Now, in a democratic situation, if you are running for governorship, those who will campaign for you must be councillors.
In Imo State, we have 27 local governments, during the last council elections held on August 27, 2010. PDP won all the 27 seats; now we have 305 wards and PDP won 304; so we have 304 councillors campaigning simultaneously. Then when you look at government appointees, commissioners, board members, etc, they are all PDP members. Even when you look at those in other parties, majority are quasi-PDP members, who, because they did not get a space, they ran away. How do you expect you can defeat a PDP candidate who has all these structures on ground?
In spite of what you see on pages of newspapers daily, President Jonathan campaigned in all the 36 states of the federation, in all the ward and in all the local governments; he slept in all the states, had campaign outlets in all the polling units, about 120,000 of them. He had polling agents in all the polling booths. In Imo State, for example, 90 per cent of the presidential candidates who contested against him did not have a single poster worth N50 anywhere; they did not have anybody of authority speaking on their behalf. Yet they expected to win.
People were casting their votes on the basis of interests. Now that trend will also dovetail into what we will see during the governorship election and House of Assembly election. Now people will say that we now have a president, who controls 80 percent of members of the National Assembly, who are PDP; the only way the president can function properly and not be a 'lame duck' is to give him governors who will function effectively with him and also give the governors members of the state House of Assembly, who can work with them and there will be smooth transition within the next four years and others can now come and take over.
Four years is not four decades; before you close your eyes and open it, four years would have passed. I do not know why people are worried. People should learn to be patient. Buhari can still be president in 2015. The presidents of Algeria, Senegal, and Zimbabwe are within the 80 years bracket. Buhari can still be president of this country, because he is agile and blessed with good physique. Then look at the ACN candidate, Ribadu; he has acquired some experience, time and age are on his side. Today, he is more experience than he was during the election.
When you look at Shekarau too, who is partly an Igbo man because he speaks Igbo like myself, he did his national youth service in my village; up till now he sends foodstuff to the village in Ihitubogu, where he lived for one year. In his cabinet as governor of Kano State, he has an Igbo indigene. Today, by the virtue of his political campaign, he has acquired tremendous experience that has prepared him very well for the office of the president of this country. The running mate of Buhari, Pastor Tunde Bakare, is now aware of the difference between the pulpit and politics.
Are you not worried that your state was branded as one of the security flash points, following the desperation shown so far by your political opponents that led to ballot box snatching in the last National Assembly elections? How will this impact on the forthcoming election in Imo?
I want to appeal to my opponents to conduct themselves properly as statesmen. If you want to be a statesman, the interests of the people are of paramount importance.
You cannot kill the people you claim you want to govern. I have been governor for four years now protecting the people, taking our people to mainstream politics. Politics is not a do-or-die affair and it should not be taken as such. I had failed various elections in my life, including the Senate of 1999 and I have not killed anybody. I ran for governorship primaries in 2003 and ended up being a deputy governorship candidate of somebody and we also failed election. But today when God said it was my time, I became governor. So, it is not a do-or-die affair.
Those who are branding Imo as security flash points, I do not know where they got their statistics from. Is it because of what the media said, or because of the propaganda unleashed on my people by the opposition or is it because of some things on ground? If you look at the elections already conducted, it was substantially very well conducted, compared to other states. And you can see that the seat we lost was because of internal sabotage by two people quarrelling in the same political party. In the presidential election, we dusted everybody. It is part of the political culture in Igboland, we do not kill anybody. We can shout at each other, abuse ourselves but you can never hear that we take the life of another person. You cannot see anybody in Igboland burning anybody's house. I went from one to 29 tribunal cases, yet no single person lost his house or his life in Imo State.
Most of our people, you can say, are very desperate about power and you cannot remove desperation from politics. Some think that this is their last opportunity, but we are telling them that it is not so. There is still time for everything. As governor and chief security officer of my state, I have allowed a level playing field for everybody. In front of my house, I have pasted the posters of all my opponents so that my security can see and know them and so that these people are given their respects at all times and not to be treated like ordinary citizens.
This has helped to bring down tension and anxiety. Even when they were removing my poster and people were telling me to give order for their arrests, I refused to give such orders. There is no violence or flash point. In anywhere I am, I must protect the lives of our people and make sure that nobody is partial. The right thing must be done, but if anybody wants to bring violence, then the law will and must be allowed to take its own course. People must be protected, so that nobody scares away people from going about their legitimate business this is the primary responsibility of government. All those running for governorship are all gentlemen.
If you take a look at those contesting the governorship election, you will see former presidential aspirants, two-time senator, political bigwigs, billionaires of over 20 years standing, multi-billionaires in dollars terms; they are all big wigs; someone described it as super presidential election. And it is going to be the test of the century, whether Nigeria can conduct this type of election. Immediately the results are announced, I will hug everybody, whether I win or not. I must not win every election. Why must I win all the elections and why must I lose after having served my people so creditably well. I took them to the national grid, developed solid infrastructure and laid a solid foundation for economic development and recovered the city from rubbish, redesigned the city making it a one city-state.
I inherited over 300 community crises and today we have solved them. So, I have something to show. If you see some of my opponents you will see that they are focusing on nothing to offer but on how to come and drain the resources of the state into their private pockets. What they talk about is security votes. How Ohakim is eating security votes. How Ohakim has borrowed money. They are only interested in the money. They do not have any programme to execute, but only to take care of security votes. That has shown our people what their intensions are.
Some are promising free scholarship, free aircraft, free food without telling us how they will generate the money. Our people are wiser now; they cannot be deceived. If you look at the published account of Akwa Ibom State for 2009 and 2010, their total allocation for 2010 was N222 billion, while for the same period Imo got only N32 billion for 2010 we have 717 students in universities, and a staff strength of 45, 000 working in Imo and somebody will say we have not tried? We have not owed anybody for one day. We have tried.