PDP FAULTS BUHARI OVER CLAIM ON RIGGING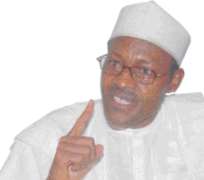 The Peoples' Democratic Party, (PDP) National Working Committee seemed to have regained its voice. The party reacted officially yesterday to the results of the election won by its presidential candidate and incumbent president, Dr Goodluck Jonathan.
Emboldened by the tough stance of President Jonathan in his broadcast to the nation to decisively with those threatening the corporate existence of the country through violent reactions to the results of the presidential poll.
Until yesterday, members of the PDP-NWC had been evasive since the results of the election were announced.
Addressing journalists at the Wadata Plaza, the PDP national secretariat in Abuja, Acting National Chairman of the party, Dr Haliru Bello Mohammed, challenged the presidential candidate of the Congress for Progressive Change (CPC), General Mohammadu Buhari to collate and present all evidences of rigging during the election at the Presidential Election Petition Tribunal. Mohammed told newsmen that the presidential election conducted by the Independent National Electoral Commission (INEC) under the leadership of Professor Attahiru Jega was transparent, free and fair. Making insinuations to PDP aversion to accreditation of voters before casting their votes, as insisted by INEC, Mohammed said the electoral body has consistently accommodated the wishes of the opposition in the process of the election even to the displeasure of the PDP.
Mohammed noted that there were equally no complaints at the collation centres, but complaints started when the results were being announced.
'I can't understand how any politician will come out and say that this election was rigged. At what level? It cannot be rigged at the national level. Our election was clearly free and fair and everybody has acknowledged that. The mandate of Goodluck Jonathan came from all the six geo-political zones of this country. They are complaining because it is in the nature of Nigerian politicians to complain when he loses election and I will call on all politicians to be patriotic and to give Nigeria some credit. This time around, we got it right and it is our duty as patriotic Nigerians to give credit where credit is due.'
'Elections are won and lost at the polling stations, this election has been free and fair at the polling station. Where else could it be rigged? We challenge Buhari or any party to bring evidence of rigging and to take it to tribunal or bring it to the media for publication. It is very unbecoming for politicians to make allegations without an iota of proof and splash it on the pages of newspapers to tarnish the image of Nigeria,' the Acting National Chairman asserted. But reacting through its media spokesman, Yinka Odumakin who spoke with Daily Sun on phone, the CPC presidential candidate, General Muhammadu Buhari insisted that the PDP should not rejoice over a stolen mandate, as it would be challenged in court of law.