I WON'T DUMP LP - MIMIKO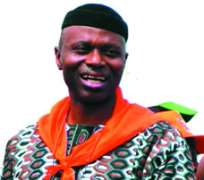 Ondo State Governor, Dr. Olusegun Mimiko, on Saturday dismissed reports that he had parted ways with former Lagos Governor, Asiwaju Bola Tinubu. He described the report as total falsehood meant to create confusion.
The Ondo State governor also slammed reports that he was set to dump the Labour Party (LP) for PDP and that he had collected N2 billion from the President to deliver the state to PDP.
He described the reports as a 'tale by moonlight, spurious fabrication, a figment of the writer's imagination and untrue'.
Mimiko, who made this clarification in a press statement issued by his Chief Press Secretary, Mr. Kolawole Olabisi, described the news as sad, saying it was a hatchet job by a faceless reporter that was out to tarnish his rising profile in the nation's body politic. Governor Mimiko stated emphatically that he would never dump his party.
He described the report as the 'height of Yellow and irresponsible Journalism and it came to us as a surprise that such tales by moonlight and yarns garbed in grandiloquence to give it a false credibility could still be the order of the day in spite of our advancement as a nation.
'On Saturday, April 9, during the National Assembly election, the LP in Ondo State swept the election by winning all three senatorial seats in the state and eight out of the nine House of Representatives seats contested for. It is thus an insult that a faceless reporter would say we collected money to deliver our state for anybody.
'The people of Ondo State are solidly with us, because in just two years we have been able to deliver our promises of giving them dividends of democracy that had eluded them for long and we shall continue to excel. And in every decision we take, we always carry them along, the instance case inclusive.
'I have said severally that I do not intend to leave my party, for any other whatsoever and for the umpteenth time, I want to reiterate that I will remain in the Labour Party.
'That the leadership of LP in its wisdom, having assessed the prevailing political situation in the nation, decided that its members should vote for President Jonathan, a position we merely ratified in Ondo State like in other states of the federation where we have our members, does not mean I will dump my party for PDP. I remain in LP and that is final,' he said.
Mimiko further debunked insinuations in the said report that he had axe to grind with former Governor of Lagos State, Asiwaju Bola Ahmed Tinubu, saying that Tinubu remains his brother, partner in progress in the emancipation of the Nigeria people, and a patriot, who, like him, is a champion of good governance, enthronement of viable democracy and total emancipation of the downtrodden. 'Thus, nobody should attempt to put a wedge between Asiwaju Tinubu and myself, he is my brother,' he said.