FANS SLAM GENEVIEVE, OTHERS OVER JONATHAN'S CAMPAIGN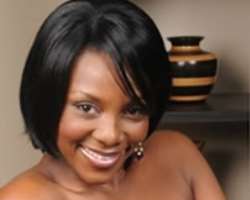 Genevieve
These are not the best of times for star actress, Genevieve Nnaji. First, she had to run for dear life when Balmoral Hall, venue for City People awards, got burnt. Reports had it that she ran out of the hall without her shoes. Not a few criticized her for choosing to attend City People award while AMAA (the event of her primary constituency) was taking place in Bayelsa.
Many thought that would be it after pictures of her and Naomi Campbell surfaced on the Internet, but a floodgate of criticisms trails her again. And this time with other notable stars that appeared in a campaign video for President Goodluck Jonathan, presidential candidate of the Peoples Democratic Party (PDP).
In the video that was first posted on Youtube, Genevieve appeared alongside Stephanie Okereke, Olu Jacobs, Ramsey Nouah, Ini Edo, Monalisa Chinda and Desmond Elliot to prop up the good virtues of the PDP standard bearer, the party that has been in power for the last 12 years. Hardly had the video hit Youtube when it was pulled down because of the barrage of criticisms that trailed it. What angered most people was the fact that the video said 'Nollywood unite for Jonathan'. 'Who gave these people power to represent Nollywood? It is an aberration,' a Nollywood insider said.
The negative comments continued, but soon singled out Genevieve when a blackberry broadcast purportedly from Dele Momodu, presidential candidate of NCP, went viral on Internet. The broadcast started with a quote from a blackberry broadcast from Genevieve while Dele Momodu's followed with his own response.
'President Goodluck Jonathan is the first president to give the creative industry major support and the only aspirant to consider that movie artistes, fashion designers, musicians, entertainers and other creative minds deserve to grows,' says Genevieve Nnaji.
Acccording to Team Dele Momodu, he has no problem with Genevieve endorsing Goodluck Jonathan. 'But it is unfair and unfortunate not to acknowledge your benefactors, no matter the situation today. Mr. President might be spending government's money on the entertainment industry, but Dele Momodu spent his hard-earned money on the entertainment industry as well.
'Long before D'Banj bought a car of his own, it was Dele Momodu's PA that used to drive him around in her official car bought by Dele Momodu. Even while receiving an award last year at the Ghana Music Awards in Accra, D'Banj acknowledged that it was Dele Momodu who first invited him to Ghana. Tee A, the comedian, became internationally known because Dele Momodu sponsored him from Africa to the Caribbean Islands. Perhaps, someone has also forgotten that Dele Momodu encouraged Banky W to return home to Nigeria when they met in Toronto, Canada.
'The first time Genevieve visited Liberia, it was Dele Momodu who encouraged her to go there. Does Genevieve have a clue how many Nigerian artistes, supermodels, actors and actresses Dele Momodu had spent his personal money on, from Darey Art Alade to Timaya, Eedris Abdulkareem to D'Banj, etc? Does she have a clue how much Ovation has promoted fashion designers like Adebayo Jones, Ade Bakare, Kosibah Creations, Adeola Sagoe, Lexy Mojo-Eyes from Sweden to Milan to Paris and across the world?
If anyone will forget Dele Momodu's contributions to the entertainment industry, it shouldn't be Genevieve.
'Where was Goodluck Jonathan in 2004 when Dele Momodu spent thousands of dollars personally and got CharterHouse Ghana to package the launch of Genevieve's musical career at the Labadi Beach Hotel, Ghana? This kind of amnesia is unkind,' says Team Dele Momodu.
Not done, many fans also took the mother of one to the cleaners with some unprintable comments on many entertainment websites.