SHEKARAU: ORATOR AND QUINTESSENTIAL TEACHER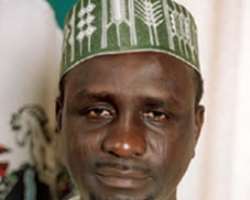 Mallam Ibrahim Shekarau's composure and outstanding performance during the recent presidential debate impressed Nigerians. And many adjudged him the 'winner.' But as he tests his popularity today, in the presidential election, the question is: Will he be the winner?
While the answer to the above question is a matter of conjecture, what is clear about Shekarau, All Nigeria Peoples Party's presidential standard-bearer, is that he is full of surprises. He's also a man of history. He has the record of being the first elected governor of Kano State to win a second term. And in the eight years he has been in office, he holds the record of having douse brought religious and ethnic tension, which ensured that Kano has not seen any uprising.
Those who know him say that Shekarau achieved this because of his ability to embrace different ethnic groups and religions, allowing non-Muslims to gain employment in the local authority and reaching out to the Christian community.
From a humble beginning as a quiet Mathematics teacher, Shekarau's career took him to the civil service and eventually to the Government House in Kano. As a teacher he did well that even his former pupils, who are now men of means, commend him. One of them, Bala Ibrahim, said this of him: 'He brought so much energy, zeal, enthusiasm to the classroom.
In politics, Shekarau has made a mark. He became governor, against all odds. Only a few people gave him a chance against then governor, Alhaji Kwankwaso. But he defeated the incumbent governor, to entrench the ANPP in Kano. In 2007, the jinx of incumbent governors losing re-election stared him in the face. But he triumphed. However, he was in the eye of the storm in 2003, when he suspended polio vaccination for children in Kano. The suspension lasted for three months, while a medical panel considered the evidence. However, Shekarau stunned all when his daughter was vaccinated.
Shekarau, popularly called Mallam, has also come under fire for his policy on community policing, using the Hisbah Guard, The people of Kano feared religious police, which is saddled with the task of enforcing Sharia law. A recent display put up by Hisbah Guard, in which 34,000 bottles of beer were destroyed, made news.
Born on November 5, 1955, in the Kurmawa quarters of Kano, Shekarau grew up with a great sense of respect for the police, as his dad was a police officer. He started formal education at Gidan Makama Primary School (1961-1967). Thereafter, he went to Aminu Kano Commercial College (1967-1973) and finally studied at Ahmadu Bello University, Zaria (1973-1977. After graduation, he started his working career as a Mathematics teacher at Government Technical College, Wudil, Kano State, in 1978. He later became the principal, Government Day Junior Secondary School, Wudil. Shekarau. He has also held key positions in such government ministries as water resources, rural and community development. He also worked in the service directorate of the Cabinet Office, and the Civil Service Commission, before he taking up appointment at the Kano State's College of Arts, Science and Remedial Studies (CASRS) as chief lecturer in Mathematics.
He worked in the college till he retired and joined the Dantata organization as secretary to the business mogul, Dantata, who he served before going into politics.