FAMILY TRAGEDIES THAT MADE HER A BESTSELLER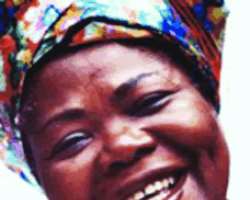 Her teenage years were an epitaph of sorrow. She was orphaned as a kid, got married at 16, divorced few years into the marriage in London and was left to fend for herself and her children in uncharted water. Filled with scars and a bitter bill to swallow, Buchi Emecheta's began penning her adversities with so much pain. She turned them into page-turners.
Critics have identified certain implicatures that condition the creative enterprise, from the socio-cultural to experiential nuggets, which is why serious literature bears testaments of the writer's universe.
Feminism, as it challenges the status quo, in a so-called masculinist world, is conceived of the urgency to redress gender questions. As we see in many of her works, Buchi Emecheta feminist toga could be a mere expression of righteous indignation.
Born on July 21, 1944, Buchi Emecheta was orphaned at a young age and spent her early years being educated in a missionary school in Yaba, Lagos. When she got married at the age of 16, Emecheta had been engaged to her husband, Sylvester Onwordi, a student she had known since she was 11. The couple moved to London thereafter and, in six years, the marriage produced five issues (an average of 12 months per child), amazingly.
Emecheta has published, among others, The Ditch, The Joys of Motherhood, Second Class Citizen, Head above Water, The Slave Girl and The Bride Price. Her works deal mainly with the negative portrayal of African women. Specifically, the main characters in her novels reflect what it means to be a mother in a Nigerian society.
Her ideological bent of stitching the strands of untold stories of female deprivations and victimizations often goes off with a vortex. She succinctly portrays how sexuality and the ability to bear children can sometimes be the only gateway to establish feminity and womanhood in Nigerian society.
In 1972, she published In the Ditch, a novel that tells a real-life story of how she moved to a poor ghetto area in London after leaving her husband. To support her children, she took up job at the British Museum.
Though the travails of the persona, Adah, the main character, is what we read in the work, it echoes the tribulations of the writer herself. Adah's life in Pussy Cat Mansion, an inglorious estate set aside for family problems, tells a story of humiliation. This leads to a wounded pride, as she finds it difficult to come to terms with such unflattering charity.
To get out of the ditch, Adah resorts to lofty initiatives and determination. With her triumph, Emecheta themes chant a requiem for the antagonistic man, whose high-handedness has lead to the separation in the first place.
In Second Class Citizen, on of her most popular novels, the persona, Adah, comes into the picture again. Here, Adah is denied a chance for western education on account of her sex. This gender discrimination was rife in her culture until a couple of decades ago.
This is not the only issue that gives Adah sleepless nights. Adah's husband treats her like a property, forcing her to support the family and, above all, become responsible for the children. Among others, Francis is a wicked exemplar. With his family unsettled at home, he still goes to school but flunks exams repeatedly. Constantly, Adah is engaged in battles to preserve her womanhood.
The early days of her separation with Francis fail to provide her a new vista of comfort. Moments of loneliness and despair come haunting. Eventually, she overcomes those problems triumphantly because of her will power.
Many argue that her novel, Joys of Motherhood, is her tour de force. In this novel, the children of her main character have come of age, and their successes in various engagements become the validity of her womanhood. The heroine this time is Nnu Ego.
Handled cleverly with literary predilection, the life of an individual can make an intriguing read, as it does with Emecheta. In her subsequent novel, Head Above Water, published in 1986, familial struggles echo. Adah, the major character, finds job to support her family all alone. With dint of hard work, she earns a degree in Sociology and manages to keep writing.
Above all, the novel examines the social conditions of blacks in London. Unlike the hard luck tales of previous novels, Adah is in transports of bliss, owning a house of her own and becoming a full-time writer.
A prolific writer, Emecheta has also published Litch the Cat (1979), Nowhere to Play (1980), The Moonlight Bride (1980), The Wrestling Match (1980), On Our Freedom (1981), Destination Biafra (1982), Naira Power (1982), Double Yoke (1982), The Rape of Shavi (1983), Adah's Story (1983), A Kind of Marriage (1986), Family Bargain (1987), and Gwendolen (1990).
Emecheta was greatly influenced by the late female novelist, Flora Nwapa, and she refers to herself as 'Nwapa's new sister'. Emecheta is not just a voice for the downtrodden Nigerian women. 'In all my novels, I deal with th many problems and prejudices which exist for black people in Britain today,' she said in an interview with Julie Holmes.
The duality of Emecheta's role as a writer is summed up in her confession: 'I believe it is important to speak to your readers in person … to enable people to have a whole picture of me; I have to both write and speak. I view my role as a writer and also an oral communicator.'
Not long ago, Emecheta, who lives in London, floated her own publishing firm, Ogwugwu Afor, together with her journalist son, aimed at providing platform and financial support for Black artists. She has revealed that she visits Nigeria at least thrice a year, but her comings and goings have been muted in literary circles. 'I keep my two worlds, my two cultures,' she said.
Her early days in London were most harrowing, as can be deduced from her early novels. She recounted the experience: 'If I was not to perish here. I realized that I had to find something I was good at. My books are about survival, just like my own life.'
Emecheta doesn't flaunt her success as a creative writer. She conceded that her autobiographical style of writing showed, to an extent, certain deficiencies as a creative writer: 'I admit am not really creative. I have to experience something or know somebody who has seen something in order to write convincingly. People keep on going back to them (autobiographical books), because when they read them, they sea mirror of their own lives in them.'
Emecheta said she isn't a feminist. 'I work toward the liberation of women, but I am not feminist.' But many literary apologists could find it rather curious.