I FEEL GOOD WHEN LADIES ADMIRE ME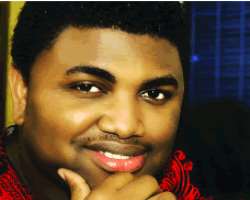 He is talented, refined and intelligent. He has been able to distinguish himself in music production. An accomplished producer, synthesizer and programmer, Irewole Samuel Oni started playing musical instrument at the age of seven. He later graduated into an organist in his father's church in Akure, Ondo State. This talent he took to the music band of his primary school where he played a prominent role.
Although, he studied Computer Science in University of Lagos, his unquenchable passion for music made him toe the line of sound production. Most people may not know that Oni is actually behind the success of great hits in Nigeria. He has produced over 1000 artistes including Folake Umosen (Kings Praise 1 and 2), Tosin Martins (Olo Mi), Midnight Crew (Igwe), Lara George (Ijoba Orun), Infinity (Olori Oko), Bongos Ikwue, Onyeka Onwenu, Pastor Aity Inyang, Ara, Keffe, Chrysalides of South Africa and many others. Apart from producing songs, Oni also has his hands in major radio and television commercials for premium brands like MTN, GTB, Stanbic IBTC, Milo, CFC, Access bank, and Power Horse, among others.
As a prominent member of the Spectrum 4 Jazz Ensembles, Oni has performed with several jazz and rock bands in the United Kingdom and America. Also, he performed at the Commonwealth Heads of Government Summit with Queen Elizabeth in attendance. Oni, who used to be the resident pianist at Sheraton Hotel, and also, Eko Hotel and Suites in Lagos, opens up to Blockbuster about the music business, his marital life, female admirers and other issues. Enjoy:
Beginning
I have been in music for over 25 years producing songs for artistes. I have been playing the keyboard for years. I remember the bass guitar was my first instrument, but later I started playing the keyboard.
Inspiration
Music has been part of my upbringing. My father used to play organ while my mother was a singer in the church choir. So, music was part of us. In fact, what actually inspired me to go into music production was the need to sanitize the industry. After listening to the songs most of our artistes play, I decided to bring out the best in their talent by producing quality music for them. I have brought sanity into the industry, now we can boast of talented artistes with good music, and we owe it to good music production.
I'm a multi-instrumentalist
Playing instruments is quite different from music production. You have to combine them in order to produce a song worth listening to. Playing instruments helps me a lot. In fact, whenever I handle an instrument, you'll think a full music band is at work. I have mastered different instruments with their original sounds.
Worked with them all
I have worked with over 1000 artistes, but I can't remember all their names. I can only remember few ones like Yvonne Chaka Chaka, Puff Daddy, Tosin Martins, Folake Usomen, Bongo Ikwue, Onyeka Onwenu, Keffe, Femi Adeyinka, Segun Obe, Midnight Crew, Infinity, Ara, Pastor Aity Inyang, Lara George, Tim Gregory, Xtreme Crew, and upcoming female artiste Ehiliz. Most of my works have won awards. I have also done soundtracks and jingles for many brands such as MTN, GTB, Milo, Power Horse and others.
From production to record label
What we do currently is to create and establish artistes, bringing them from the grassroots and make them a star. God has been using us to change the lives of artistes, to enable them to achieve their dream of becoming superstars. The upcoming artistes are the reason we are into production. They are more important in the industry than the established stars.
I don't turn down artistes, even if you can't sing well, I'll try to listen to you provided you are ready to learn and listen to my instructions.
Criteria for producing artistes
Before I could produce your work, you must be seen to have passion for music. Even if you don't have a good voice, we could still work on you. I also help artistes restructure their lyrics. You have to be cheerful as a musician because if you are not a happy person, you can't make others happy. The kind of music I produce must have a good message for the public, I don't produce meaningless songs. Apparently, most of the songs I have produced are gospel but that doesn't mean I'm a gospel music producer. I have produced good R&B songs also.
Qualities of a music producer
You must possess a humble spirit to be a producer. You also need a good sense of music, melody and rhythm. You must be listening to different kinds of music to enable you distinguish between good and bad music. As a producer, you have to be willing to learn and as well be accommodating and friendly. I'm very fulfilled because music production has been my dream career. I don't have any other business aside the music business because I have so much passion for it. And I appreciate God by His grace for what I've achieved so far.
My wife and I
I am married to Adebola Oni who is very beautiful and sexy. We have been married for over three years now and our marriage is blessed with a lovely daughter. Adebola is very supportive and I thank God for blessing me with such a wife. As a husband, I also try to make out time to be with my family especially at weekends. I met my wife few years ago in her mother's church where I went to perform. She is such an attractive woman so I couldn't get my mind off her. Though, when I approached her she turned me down, I wasn't discouraged because I knew I have found a soul mate in her. By the grace of God we became friends and after her law school programme we got married.
My female admirers
Ladies often admire my handsome look. I feel good whenever women appreciate my look and the clothes I wear. And I try to appreciate their gestures by being polite to them.
On music industry
The music industry is improving every day. I think we will get there in no distant time believing God for a turn-around. Piracy is the greatest enemy of the industry. After spending time and money on an album, someone from nowhere surfaces to pirate your work not minding the damage it would do to you. I hope someday we will find a remedy to piracy. We need the massive help of the government to win the war against piracy.