YOBO NOW PLAYS BEST FOOTBALL -SIASIA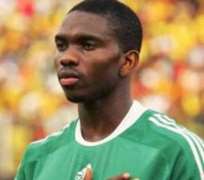 Super Eagles' Chief Coach, Samson Siasia, has passed a vote of confidence on the team's skipper, Joseph Yobo.
In Siasia's words: 'Yobo is playing his best football at the moment'.
The Eagles' helmsman insisted that Yobo was in the team strictly on merit. His words: 'If you have been monitoring Yobo's game since he went to Turkey, you will agree with me that he is in the form of his life at the moment. He has played in almost all Fenerbahche's matches.
It gladdens a coach's heart when he sees that his player is playing regularly. I am happy whenever I link up to the Turkish League and see him in the starting team.
'You will see the evidence of Yobo's form in his recent games for Nigeria. He is in great form. It is as if he has just begun his football career. His sense of organisation at the back is vital to the team'.
Siasia further defended his sticking to Yobo as the team's captain.
'You need a Yobo in every team. Every coach will want a Yobo in his team. Those days we used to have Stephen Keshi, he was instrumental to our success in that era. The boys respect Yobo and I'm so glad at his humility and sense of responsibility. 'It's good to have somebody such as him on the pitch when I'm on the sidelines. He is my partner in the rebuilding process', he said.
Siasia further hailed Yobo's 10 years in the national team. 'His humility and discipline have taken him this far. If he continues this way, in this form, I won't be surprised if he reaches 100 caps'.