I Don't Have A London- based Lover - Ronke-Oshodi Oke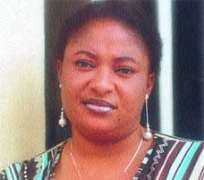 Top Yoruba actress, Ronke Ojo, popularly known and addressed as Ronke Oshodi Oke has denied being in love with a London based auto dealer identified as Busari Babalola, a.k.a Double B.
In a chat with our crew, the busty actress told us that those circulating the rumour didn't get their facts right. Adding that they are confused and only out to mislead others. Although she admitted having a man in her life at the moment, she denied having any lover in London.
"I don't know where you got your information from, but let me tell you the truth, I am not dating anybody in London. It was February this year I went to London last. I am just preparing to go again. So, if I have a man there, won't I be going almost every month? And besides, my man is a Nigeria and we both live in Nigeria. I can't deny I have a man in my life right now, but there is nobody like a Londoner.
Asked to disclose the identity of her new lover and the time the wedding bell would ring, the gap- tooth actress said, "It is not yet time, I will let you know. But all I am trying to let you understand is that I don't have any lover called Busari Babalola and I am not sating anybody in London."
But Ronke's denial notwithstanding, the people spreading the romance tale maintained that she's allegedly been dating Busari Babalola since August 2007.
They claimed that they met in London when the actress was in the Queensland sometime in early 2007 to shoot her movie. Since then, their romance has been waxing stronger.
Gist has it that a mini-introduction had been done. Not only that, that the parent of the guy have endorsed his plan to marry the star actress. Busari Babalola according to them, hails from Oyo township and he is an auto dealer in London.