EGUAVOEN HEADS TO MONROVIA WITH 20-MAN SQUAD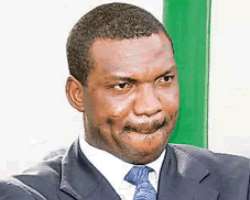 Chief Coach of the national Under-23 team 'the Dream team V', Austin Eguavoen, has picked a 20-man list for the All Africa Games qualifying match against Liberia this weekend in Monrovia.
The names were picked from a list of 24 players in the Golden Destiny Hotel camp of the team. Addressing the players, Coach Eguavoen appealed to those who did not make the Monrovia list not to hold grudges as they remain an integral part of the team.
'As you all know, not all of us can make it to Monrovia. For those of you who would not make the trip to Liberia, you remain an integral part of this team. We are still building and every one of you who has started this campaign will remain a part of the family.'
'All we ask of you is remain with the team in spirit and put us in your prayers as we head to Monrovia', Eguavoen appealed. Players for Monrovia duel are: Dele Ajiboye, Ibok Edet, Uchechi Daniel, Rabiu Ibrahim, Ofem Inah Otekpa Emergi, Femi Thomas, Udoh Kingsley, Mba Chimeze, Ayo Saka, Christian Ibeagha,Usman Amoda, Maduabuchi Josiah, Reuben Gabriel, Osas Okoro, Theophilus Afelukan, Ekigho Ehiosun, Wasiu Showemimo, Chibuzor Okonkwo, Nnamdi Oduamadi.
The Dream Team will on Thursday depart Lagos for Monrovia for its first leg of All Africa Games qualifier against Liberia. The return leg holds in a fortnight in Nigeria.