2011 General Elections: Not Yet Time For Celebration - ACN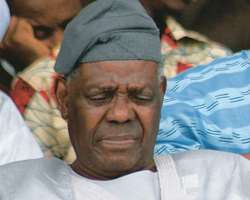 ACN NATIONAL CHAIRMAN CHIEF BISI AKANDE.
ABUJA, April 12, (THEWILL) - The Action Congress of Nigeria (ACN) has said that the modest success recorded in last Saturday's National Assembly election, refreshing as it may be, should not be a reason for the kind of self-praise and congratulatory hoopla that have rented the air since the poll.
In a statement issued in Abuja on Tuesday by its National Publicity Secretary, Alhaji Lai Mohammed, the party said much still remains to be done before the drums can be rolled out in celebration, especially as the big elections, the presidential and governorship, have yet to be held.
It said while no one can begrudge President Goodluck Jonathan for feeling good over last Saturday's election, he cannot and should not tell Nigerians that he has delivered on his promise to give Nigerians a free, fair and credible elections until after April 26th, when the entire general elections would have been concluded.
''Much as Saturday's poll went fairly well, we - as well as local and international observers - observed a number of serious shortcomings that called the outcome of the poll to question in many states. This was corroborated even by INEC Chairman Attahiru Jega himself, during his post-election news conference, where he mentioned ballot snatching, sporadic violence and outright stealing of election materials as happened in Zaria, where a house was burnt down after ballot thieves were traced there.
''To these, we add the intimidation of opposition supporters, non-accreditation of voters, missing names on the voters' register that disenfranchised thousands and cooked results that overturned impending defeat for some high-profile politicians. In Anambra, for example, ACN agents were chased away from certain areas, while in Kwara, military personnel deployed to held ensure security were used to intimidate opposition supporters.
''But by far the most egregious problem with last Saturday's election is the issue of the sub-units which INEC said should be created in polling units with more than 300 people, as a way of speeding up the process. We note that no one knows in which polling stations these sub-units were created, except some unscrupulous INEC officials and PDP stalwarts, who saw such units as sources of illegal bonus ballots. It is therefore important that these anomalies be rectified before the remaining polls before the celebration can start,'' ACN said.
The party said it has no doubt that Nigeria has what it takes to organize an election that will be a positive reference point across the world, but noted that do-or-die politicians and desperate office holders, especially some sitting governors of the PDP, will not allow this to happen, hence there is the need for eternal vigilance, instead of premature celebration.
''No other party in this country has put the issue of free, fair and credible election on the front burner more than our party, the ACN.
Every inch of the way, we were never afraid to offer constructive criticism of the electoral process. We did all that because we believe we cannot grow our democracy without free and fair elections as the most fundamental basis. We are encouraged by the modest success of Saturday's poll, but we say it is not yet Uhuru, and that all hands must be on deck to ensure that we get it right,'' ACN said.