JONATHAN, MIDDLE BELT LEADERS STRATEGISE FOR SATURDAY'S POLL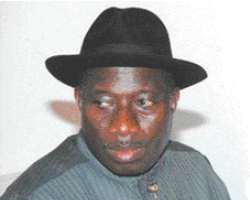 Jonathan
President Goodluck Jonathan and Vice President Namadi Sambo on Monday held a crucial meeting with some political leaders in the North-central geo-political zone during which they reviewed last Saturday's National Assembly election.
In attendance at the meeting were the President of the Senate, David Mark, Governor Gabriel Suswan of Benue State and his Nasarawa State counterpart, Aliyu Akwe Doma.
At the meeting, President Jonathan noted that the Middle-Belt region had been the unifying force in Nigeria. Thus, he enjoined the leaders, most especially the people to continue to play their strategic role of unifying the country.
According to Jonathan; 'historically, you have been playing that role, you are like a mortar that is used to hold the North and the South together. 'I am optimistic that the issue of North/South dichotomy will gradually fade away in the new Nigeria.
We shall be talking about Nigeria, not ethnicity or religion. We shall focus on the economy, infrastructural development, employment and security of lives and property. This is my covenant with Nigerians; I promise I will not disappoint you.'
The President therefore, called on party faithful to come out en masse to vote for him on Saturday.
Meanwhile, Jonathan has described the election of Senator Mark for the fourth time as a rare feat in Nigeria's contemporary history, saying 'I congratulate you for making history. To Survive one legislative session is a herculean task and to survive it four times is a miracle. It goes to show that you are truly in touch with your people'
Jonathan who was speaking when he held a parley with leaders of the Middle-Belt region, further said Senator Mark's overwhelming victory in last Saturday's parliamentary poll was a manifestation of his leadership qualities as appreciated by his people.
He therefore, thanked the people of Benue State for recognizing and electing Senator Mark again, saying 'the Senate President is a good strategist, a mobiliser and a goal-getter whose services are needed by the nation'.
In his own remarks, Vice President Namadi Sambo noted that the victory of Mark at the polls is a testimony of his peoples' desire to have good leadership.?