PRESIDENTIAL RACE: ME, STEP DOWN? BLOODY LIE -RIBADU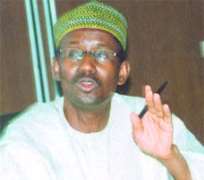 •Ribadu
Mallam Nuhu Ribadu, Action Congress of Nigeria (ACN) presidential candidate, has said that nothing would make him step down for any candidate in Saturday's election.
He alleged that the ploy to get him out of the race was an ochestrated one
'Ever since I joined the race, they have been fighting me. When they could not stop, defeat or reduce my continuous growth and development, they said I am going to give up and give another person my support. It is a bloody lie.'
He spoke with Daily Sun at the Ribadu family house, 1, Ribadu Street, Yola, Adamawa State. Excerpts:
Checkmating rigging
My take on rigging is that those who have the opportunity will always want to rig, especially those who are in authority. They have the means and resources to do whatever they like when it comes to rigging. But I believe that this time, it may be very difficult in the urban centre, my fear is in the rural areas. I hope that Nigerians generally will stand against rigging this time. It is not all about party, but credibility of the person that matters.
However, I hope that our party has done fairly well in terms of preparations. We have our own cameras that are picking everything that are not normal. We also hope that other parties are doing the same thing. Ordinary Nigerians should also participate in it because it is about all of us, not just for one particular political party.
Rigging is usually done by the people in government and the authorities. In this case it is PDP because they control both the state and federal governments where I am voting. They are extremely unpopular, everybody knows that. I have not seen one PDP supporter so far and it is amazing and incredible. I have not met an individual who said that he or she would vote for PDP. In fact, the level of the rejection is amazing, so I do not know why they are going to rig this election.
Curbing rigging has to do when there is combination of factors. INEC officials will have to be really honest and be alive to their responsibilities. They must refuse to be compromised. There is so much hope and faith in them. The Nigeria Police and other law enforcement agencies must realize that they are working for Nigeria and not for a particular political party or government.
If these factors come together, we will get it right this time. There is likely going to be free and fair elections. So, it is still with the officials, INEC, security agents and of course, we, ordinary people. We have done our own part and I pray that INEC and the police will also do theirs. I am from the Police, I am from the institution and I know that they are not bad, given the opportunity, they will do what is right. They should resist intimidation by authorities to misuse them.
Why do people want to commit crime, especially campaign violence and rigging?
It is all about the people in power who want to remain there. Those who do not want to work for the people are in office and do not want to leave. The same thing is applicable to Gbagbo of Cote D'Ivoire who was voted out but refused to leave. He would rather die than to leave the position. It is the same mindset PDP has. That is why you see rigging, desperation to remain in office and do what they like with public money, abuse authority and power. If you are going to public office with the fear of God to work for people, you have no problem and you do not need to rig election to get there. Then if you get there by do-or-die means, you are a very selfish person. Anyway, I know that Nigerians will resist that this time.
Do you see any possibility of a run-off in the presidential polls?
It is a process that you cannot rule out. But hopefully, it is very possible that we could win with my calculation and that of my party. We are in the best position to win at the first ballot. We are going to surprise people, our party is a national party and PDP is totally rejected across the country. The other opposition is a sectional party, more or less a tribal party.
Your party's proposed alliance with other opposition parties and the issue of you stepping down for another candidate?
You see it is the 419 of the opposition, there is a deception. They are seeing for the first time, a threat to their control in this part (North) of Nigeria and they are so desperate to fight it. Ever since I joined the race, they have been fighting me. They have called me all sorts of names and said many things against me. They even said that I have died.
Finally when they could not stop, defeat or reduce my continuous growth and development, they later said I am going to give up and give another person my own support. It is a bloody lie, evil, unholy and desperate spirit to reverse what God has said concerning the direction we are going in our country. So, it is not true that I would step down for anybody and that cannot happen. Change has come to our country and this is the first time change has come to our country. For the first time our country is going to be unified with an objective of having a new Nigeria with a real generational change that can usher in all the good things for our country.
Your critics say your support is mainly from the South West
I do not think that is true. But I feel proud if I am accepted in other parts of our country not necessarily from where I come. That tells you what I am and who I am. But the point is that it is not that I am not accepted here, the truth is that I am the only person that is accepted in other parts of Nigeria.
Northern Nigeria has 19 states, go round and see what is going on. Go to Taraba, Adamawa, Bauchi, Gombe, Benue, Plateau, Niger and Kwara states. These are also northern Nigeria and you cannot just use one or two states to judge. I want you to know that I am very much accepted.
Are you expecting surprises in the election?
Yes, what do you think yourself? What is your own view? You have seen the order, you have seen Yola, you have seen what is going on here. You know ACN in Adamawa State is being given true reflection of what is going on here. You have seen what is happening in Taraba, Bauchi, they are all ACN states.
There are messages going out especially in Lagos that people should not vote for ACN except Governor Raji Fashola, would that not affect your chances?
It is all about desperation. PDP pumped money into Lagos State and the South West trying to deceive the South West voters. They are used to that. They did that in 2003 and 2007. They rigged the elections and court later reversed some of them. This time around, people have learnt their lessons and no one will vote for PDP in the South West. The position is strong, the deception period is over and they should wait to get the shocker of their lives.