JULIUS AGWU THE CARING HUSBAND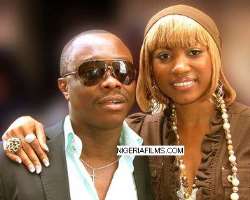 We just have to commend Julius 'De Genius' Agwu for this! Within a very few months of quitting our bachelors' club, the guy has not only learnt how to be a good husband, he is actually playing th

e role very well. At the event's reception yesterday, Julius came down first from the driver's seat to open the door of his PRADO 'JEEP' for his wife on the passenger's side. Again when they both strolled stylishly into the venue, Julius picked a seat, cleaned it very well, positioned it properly and ushered his lovely wife to seat down in a very polite and courteous manner. He also cleaned her shoes. What a husband.