PDP ROUTS BUHARI, ANPP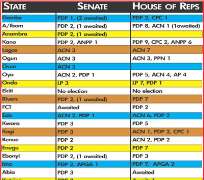 Contrary to expectations, the ruling Peoples Democratic Party (PDP) underscored its supremacy in the Northern states over General Muhammadu Buhari's Congress for Progressive Change CPC and the All Nigeria Peoples Party (ANPP).
The ruling party proved bookmakers wrong by clinching many Federal Constituency and Senatorial district seats in states, which the CPC and ANPP were believed would have smooth runs.
In Kano for instance, PDP snatched two senatorial seats, leaving the ANPP with the remaining seat PDP also recorded victory in 11 Federal constituencies ANPP won eight and CPC two.
The ruling party also made a clean sweep of six of the results declared so far in Sokoto State as at press time out of 11. PDP looks set to retain its majority in the National; Assembly with the results declared so far. Besides giving the main opposition parties in the North West the run for their money, the ruling party hade a convincing victory in North Central, winning all the three senatorial seats in Kwara, Kogi and two in Benue with the east result still being awaited.
In the South South PDP won all senatorial and Federal constituency seats declared so far in Rivers and won two senatorial districts in Akwa Ibom, while one seat is outstanding. The South East governors fulfilled their vow to deliver the zone to the PDP, which won majority National Assembly seats in the geo-political area.
However, the duo of Action Congress of Nigeria (ACN) and Labour Party (LP) reversed victories recorded by the PDP in the last general elections in the zone.
Senate
Kwara
Dr Bukola Saraki
(Kwara Central PDP)
Shaaba Lafiaji
(Kwara North PDP)
Simeon Ajibola
(Kwara South PDP)
Enugu
Ike Ekweremadu
(Enugu West PDP)
Ayogu Eze
(Enugu North PDP)
Lagos
Mrs Oluremi Tinubu
(Lagos Central ACN)
Alhaji Gbenga Ashafa
(Lagos East ACN)
Imo
Hope Uzodinma
(Imo West PDP)
Chris Anyanwu
(Owerri APGA)
Matthew Ifeanyi Nwagwu
(Imo North PDP)
Edo
Odion Ugbesia
(Edo Central PDP)
Ehijie Uzamere
(Edo South ACN)
Domingo Obende
(Edo North ACN)
Kogi
Nurudeen Abatemi
(Kogi Central PDP)
Smart Adeyemi
(Kogi West PDP)
Ocheja Dangana
(Kogi East PDP)
Osun
Mudasiru Hussain
(Osun West ACN)
Prof. Sola Adeyeye
(Osun Central ACN)
Mr Babajide Omoworare
(Osun East ACN)
Ebonyi
Chief Sunny Ogbuoji
(Ebonyi South PDP)
Gombe
Alhaji Danjuma Goje
(Gombe Central PDP)
Ondo
Prof Robert Borrofice
(Ondo North LP)
Dr Ayo Akinyelure
(Ondo Central LP)
Mr Boluwaji Kunlere
(Ondo South LP)
Ogun
Mr Gbenga Obadara
(Ogun Central ACN)
Alhaji Adegboyega Kaka
(Ogun East ACN)
Akin Odunsi Babalola
(Ogun West ACN)
Oyo
Chief Olufemi Lanlehin
(Oyo South ACN)
Mr Ayo Adeseun
(Oyo Central ACN)
Hosea Agboola
(Oyo North PDP)
Katsina
Ahmed Sani Stores
(Katsina Central CPC)
Abu Ibrahim
(Katsina South CPC)
Abdu Yandoma
(Katsina North)
Rivers
Magnus Abe
(Rivers South East PDP)
Ake Wilson Asinobi
(Rivers West PDP)
Kano
Hayatu Gwarzo
(Kano North PDP)
Kabiru Gaya
(Kano South ANPP)
Bashir Garba Mohammad
(Kano Central PDP)
FCT
Philips Aduda
(AMAC/Bwari PDP)
A'Ibom
Eket PDP
Ikot Ekpene PDP
Anambra
John Okechukwuemeka
(Anambra North PDP)
Andu Uba
(Anambra South PDP)
Kaduna
Maj. Gen Sani Saleh
(Kaduna Central CPC)
House of Reps
Kwara
Dr. Ali Ahmad
(Ilorin East/Ilorin
South PDP)
Alhaji Moshood Mustapha
(Ilorin West/Asa PDP)
Alhaji Zakari Muhammed
(Baruten/Kaima PDP)
Hon. Ahman Pategi
(Edu/Moro/Pategi PDP)
Dr. Rafiu Ibrahim
(Offa/Ifelodun/Oyun PDP)
Ebonyi
Christopher Omo Isu
(Afikpo North/Afikpo
South PDP)
Sylvester Ogbaga
(Abakaliki/Izzi PDP)
Peter Ede
(Ishielu, Ezza PDP)
Kogi
Sunday Karimi
(Yagba ACN)
Tajudeen Yusuf
(Kabba-Bunu Ijumu PDP)
Mohammed Idris
(Omalla/Ankoa PDP)
Buba Jibril
(Lokoja/Koton CPC)
Benue
Oker Jev
(Buruku ACN)
John Dyegh
(Gboko/Tarka ACN)
Adamu Entono
(Apoa/Agatu PDP)
Emmanuel Jime
(Makurdi/Guma PDP)
Gombe
Bello Usman Kumo
(Akko PDP)
Khamisu Ahmed
Mailantanki
(Gombe /Funakaye/Kara
CPC)
Yusuf Manu Swa
Billiri/Balanga PDP)
Bauchi
Aliyu Ibrahim Gebi
(Bauchi CPC)
Lagos
Babatunde Adewale
(Apapa ACN)
Rafeesat Onabamiro
(Badagry ACN)
Olajumoke Okoya-Thomas
(Lagos Island I ACN)
Yakubu Balogun
(Lagos Island II ACN)
Faleke Abiodun
(Ikeja ACN)
Isiaka Suara
(Ojo ACN)
Lanre Odubote
(Epe ACN)
Edo
Abubakar Momoh
(Etsako ACN)
Nosakhare Osahon
(Ovia ACN)
Razak Bello-Osagie
(Oredo ACN)
Jim Adun
(Egor/Ikpoba-Okha ACN)
Patrick Ikhariale
(Esan Central, Esan West,
Igueben PDP)
Pally Iriase
(Owan West ACN)
Samson Osagie
(Orhionwon/Uhunmonde
ACN)
Friday Itula
(Esan Northeast/ Esan
Southwest PDP)
Ondo
Abegunde Ifedayo
(Akure South/Akure North
LP)
Bakare Biodun
(Ifedore/Idanre LP)
Adeobu Johnson
(Ile-Oluji/Olaigbo/Odigbo
LP)
Akinlaya Joseph
(Ondo West LP)
Ologunagba Jerome
(Akoko Southwest LP)
Dauda Olawadare
(Akoko Southeast LP)
Omosule Eniolorunda
(Owo/Ose LP)
Albert Akinloye
(Okitipupa/Irele PDP)
Ogun
Segun Williams
(Abeokuta South ACN)
Babatunde Olabode
Ogunola
(Ado Odo/Otta ACN)
Adeyemi Adekunle Saheed
(Ifo/Ewekoro ACN)
Razak Adewusi
(Yewa North/Imeko Afon
PPN)
Oyo
Kareem Tajudeen Abisodun
(Atisbo/Saki West/Saki East
PDP)
Hon. Muraina Saubana
Ajibola
(Ibarapa Central/Ibarapa
North PDP)
Jimoh Afis Adelowo
(Irepo/Orelope/Olorunsogo
PDP)
Hon. Mulikat Akande
Adeola
(Ogbomoso
North/Ogbomoso South
Orire PDP)
Hon. Odebunmi O.
Dakumu
(Ogooluwa Surulere PDP)
Abiodun Awoleye
(Ibadan North ACN)
Sunday Adepoju
(Ibarapa East/Iddo ACN)
Kola Olabiyi
(Iseyin/Itesiwaju/Kajola/Iw
-ajowa ACN)
Kamil Akinlabi
(Afijio/Atiba/Oyo East/Oyo
West ACN)
Murtala Kayode
(Akinyele/Lagelu AP)
Ajaja A. Adebukola
Ibadan North East/Ibadan
South East AP)
Dr. Ibrahim Adeniji Olaifa
(Oluyole AP)
Busari Olayemi Sikiru
(Egbeda/Ona Ara AP)
Enugu
Ifeanyi Ugwuanyi
(Igboeze North/Udenu
PDP)
Ofor Chukwuegbo
(Enugu North/South PDP)
Patrick Asadu
(Nsukka/Igboeze South
PDP)
Ogbuefi Ozomgbachi
(Udi/Ezeagu PDP)
Peace Nnaji
(Nkanu East/West PDP)
Kingsley Ebenyi
(Enugu East/Isiuza PDP)
Tobias Okechukwu
(Awgu/Aninbri/Oji River
PDP)
Stella Ngwu
(Uzo-Uwani/Igbo-Etiti
PDP)
FCT
Jephaniah Jisalo
(AMAC/Bwari PDP)
Isa Dobi
(Kuje/Gwagwalada/Abaji
Kwali PDP)
Reps Cont 2
Rivers
Ogbonna Nwuke
(Etche/Omuma PDP)
Dwari Ibietela George
(Akukutoru/Azariforu PDP)
Kenneth Anayo Chikere
(P/Harcourt I PDP)
Chinda Kingsley Ogundu
(Obio/Akpor PDP)
Gogo Bright Tamuno
(Okrika/Ogu/Bolo PDP)
Mpizi Bariunada
(Elewmei/Tai PDP)
Andrew Uchendu
(Ikwerre/Emohna PDP)
Akwa Ibom
Daniel Effiong Akpan
(Etinan PDP)
Bassey Dan Abia
(Eket PDP)
Archibong Kenneth Edet
(Itu PDP)
Robinson Edet Uwak
(Oron PDP)
Saviour Friday Udoh
(Ikot Ekpene PDP)
Emmanuel Ekon
(Abak PDP)
Ini Akpan Udoka
(Ikono PDP)
Emmanuel Uyo (ACN)
Kano
Farouk Muhammed Lawan
(Bagwai/Shanono PDP)
Abdulkadir Jibrin
(Kiru/Berbeji/Gwale PDP)
Surajo Harisu Dambata
(Danbatta/Makoda PDP)
Dogowa Tudun Wada PDP
Gezema/Gabasawa PDP
Kombots Babba Agundi
PDP)
Aminu Suleiman
(Fagge PDP)
Gideon Lucas G.
(Kura PDP)
Garin Mallam/Madobi
PDP)
Nasiru Baballe Ila
(Tarauni CPC)
Nasiru Ali Ahmed
(Nassarawa CPC)
(Ajinge/Gaya/Albalsau
ANPP)
(Bichi (ANPP)
Tisni Abdul Kadir
(Dawakin Tofa/Rimin Godo
ANPP)
Haruna Musa
(Kano Municipal ANPP)
(Kunji ANPP)
(Wudi/Garko ANPP)
Sokoto
Sa'adu Nabunkafi
(Binji/Sillame PDP)
Umar Bature
(Sokoto North/South PDP)
Abdullahi Mohammed
(Kware/Wamakko PDP)
Isa Salihu Bashdir
(Tangaza/Gadu PDP)
Aminu Shehu Shagari
Yabo/Shagari PDP)
Achida Wurno
(Wurno Rabbah PDP)
Imo
Bethel Nnaemeka Amadi
(Mbaitoli/Ikeduru PDP)
Chukwu Victor Onyereri
(Isu/Njaba/Nwamngele/Nk
-werre PDP)
Irona Alphonsus Gerald
(Oru West/Ohaji/Egbema
Oguta PDP)
Onyewuchi Ezenwa Francis
(Owerri APGA)
Eddie Ifeanyichukwu
Mbadiwe
(Ideato North/South APGA)