MY SON'S CONDITION BROKE MY MARRIAGE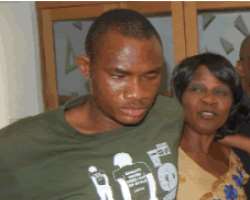 Seun with mother
It took quite an effort for Mrs. Oritoke Aluko-Olokun to hold back tears at a point while talking with this reporter about her 31-year-old son, Seun, who has autism. Earlier that day, while telling the Deputy Managing Director of The Sun Publishing Limited, Mr. Femi Adesina about the agony of caring for children with autism and the enormous challenges which families, particularly mothers, go through in raising them, her voice broke. After regaining composure she revealed that her one thought everyday is about what would happen to him if she passes on.
She said: 'My last thought at night and everyday morning when I open my eyes is this burden I carry in my heart. My heart is aching. I don't know what to do. I see him everyday; I look at him; a handsome young man. And I ask myself, what will be the end? I pray I don't die now, but what if it happens? What will happen to him? I have done my best thus far. The question remains, what next? Not being sure pains me.'
Autism is a developmental disability that makes it hard for those affected to communicate, play, learn and interact socially. It has no known cure but is treatable via early intervention. The magnitude of this medical condition has grown so much that in 2008, the United Nations declared 2nd April as World Autism Awareness Day (WAAD) with a view to bringing national and global attention to focus on developing and implementing responses to it, part of which is to create mass awareness.
Until the complex condition was properly described, it was thought to be very rare in the centuries preceding the 1940's. But it is now extremely common. It is in Nigeria and the number of cases being reported is on the increase. It is currently estimated that there are over 380,000 undiagnosed cases of autism in Nigeria. That is a very large population of Nigerians who are being hidden away by their families out of shame because these children are 'somehow' and therefore considered a family embarrassment that should not be seen by outsiders.
A very experienced radiographer, Aluko-Olokun retired from the services of the Lagos State government in 2007, but was compelled by the financial burden of paying for Seun's specialized therapy to take up appointment again as a contract staff despite her 'old' age. She will be 64 this year.
Interestingly, renowned Pentecostal preacher, Rev. (Dr). Uma Ukpai once said that while men may love children, women celebrate and adore them. For 31 solid years, Aluko-Olokun has done this with Seun, and in 1984, she paid a huge price for it as her marriage broke up on account of her son's condition. In this interview, she talks more about the long hard road she has traveled, caring for Seun. Excerpts…
You retired as a radiographer. How long did you work before retiring and then going back to work for the government again?
I worked for 31 years in Lagos State. I have always been a radiographer in the hospital.
When did you first notice Seun's condition?
When he was about one year old, he had viral infection. The first was measles and then chicken pox. It was after the illness that I noticed he was restless and uncooperative. I noticed that he wasn't even hearing well. Before then he had been reciting 'A' for apple and 'B' for ball with his father. After the illness he became very restless and was not cooperating anymore. He started to strange signs - he was about 18 months at the time.
Are you saying that before the illness came he showed all the normal signs one would expect in a little child of his age?
Yes, he grew normally; he walked before he was one year old. The met the expected milestones for a child very well
How has he been since then?
As I said earlier, I was working in the hospital. When I noticed the change in him, I took him to see a doctor in the hospital. He was examined and treated.
But there was no improvement even with the medical attention. The drugs he was given only made him go to sleep.
What did the doctors diagnose?
They didn't know it was autism at the time.
In that case, what then were they treating him for?
Well, they were treating his 'restlessness' by giving him drugs, just to calm him down.
Are you saying that they didn't understand the problem before proffering a solution?
There was no solution. As he was growing his condition was becoming worse – with no proper attention in that line. If they had known that they were dealing with autism, they would have known how to tackle it.
Did he start school?
Well, he started school. I put him a normal school because they thought trhat mixing with other children would do him good. But this didn't help him at all, until later when I learnt about this special school. MD Special School in Omole Estate.
In which year was that?
I cannot remember now. That was years ago.
When was he born?
He was born in 1979. When I learnt about the school, I sent him there. He was doing well in mathematics more than the other subjects. It got to a stage when he became too old for the class. And they didn't know what else to do with him.
Before he left the school he was always admiring shoes. Once as person come in, the first thing he would do was to lift up the trousers near the ankle to look at the shoes. I thought he had interest in making shoes. For this reason, I put him a shoe-production company. Unfortunately, the place was too choked up, so he wasn't cooperating. So I withdrew him from the place and kept him at home for quite some time until I learn about Autism Associates.
In which year was that?
I think that was in 2007. He was 28 years by then. Before I learnt about Autism Associates, I had some people who called themselves 'therapists' that were coming to my house to 'work' with. That must have been as early as 2005, when they started with him. The way they handled him made him to get hardened. They were using corporal punishments on him. It was my neighbour who saw them doing it that advised me to stop them. Fortunately, almost immediately, somebody introduced me to Autism Associates.
Were you still working at the time? And how were you able to manage the situation?
I had house-helps and he was staying at home with the house-helps until those therapists came and Autism Associates followed.
Apart from this, what other challenges have you faced because of his condition?
Well when he was quite young, I had marital problem. My husband didn't understand what the condition was. He thought it was some kind of spiritual manipulation or something. So he couldn't stand him. He broke our marriage and told me to move out with him. His condition broke my marriage. (Tears welled up in her eyes as memory of that day zoomed into the present and her voice broke too).
At the time when your former husband said that you should leave, how did you
feel?
Naturally, I felt bad. I lost a lot of weight, thinking about how to mange him alone. But eventually I started getting over it.
Which year was this?
About 27 years ago, in 1984.
Now that he must have heard about autism and probably understands what it is, has he made any effort to contact you?
No. he has not. Occasionally, he saw him but he was not moved or predisposed to assist in anyway. So there has not been any assistance of any kind from his side.
What about his brothers and sisters - none of them made any efforts to help?
They were thinking along the same line like their brother. Again it depends on your upbringing. If you are spiritually-minded that would shape your response to situations. And if you are an occultist, of course it would also determine how you deal with a situation.
In essence, you have had to carry the cross alone?
In fact I don't know how I have been able to cope. I have had a lot of support in my place of work. My colleagues understand the problems I have been going through. And I have been pulling my weight as well.
In which year did you retire from service?
I retired in 2007. But I had to go back to work for the government as a contract staff so that I can afford the cost of his therapy.
Now, given that you been in the Lagos State civil service, and your colleagues have seen the trauma you have been through, has there been any attempt bythe Lagos State government to have a scheme or intervention programme to assist families whose children have this type of challenge?
I don't know. But what happened when I retired is instructive. At that time I lived in government quarters.
The people in-charge wanted to throw me out. So I wrote a special SOS to Governor Babatunde Fashola, telling him about my son who has autism. I told the government that he has been undergoing therapy in that flat and my superiors want to throw him out on the street. I made the governor to understand this would de-stabilize him altogether. The governor was so magnanimous. He took a step that forestalled them from ejecting me from the quarters. This much I know the governor has done. I don't whether any effort has been made by the state government to legislate on the welfare on children and families dealing with the challenge of autism.
How did you get to know that it was Governor Fashola that influenced the decision not eject you from the government quarters?
I went to the office of the then Lagos State Head of Service, who was in support of me being thrown out of the quarters. He called me and assembled so people and told them that I reported him to the Governor. That was when I knew that my SOS letter got to the governor. I just believe that God sent an angel in human form to deliver my letter to the governor. The Lord God be praised forever! Amen.
Since that time, I have been living there, but my contract would soon expire.
There is a growing urgency to get the Federal Government to create a national legislation that would provide for the welfare of autistic children, adults and their families. If you were to see Governor today, what would you say to him?
I would thank him very much. I will tell him of my deep appreciation of the directive he gave, which forestalled the move to prematurely eject me from the quarters, where I was living with my autistic son. Not only because of my son, but because I was still working for the Lagos State government.
Concerning policy, what would you like him to use his office as governor to do for children that are challenged by autism in Lagos State?
By the infinite grace of God, I believe that the governor will be re-elected by the good people of Lagos State on April 16, 2011. It is the earnest desire of mothers like me to see the government create very special schools dedicated to children facing the challenge of autism, which will have an integrated team of professionals experienced in the care, education, therapy and counseling of children with autism. The government should ensure that these children get free hospital services. Overseas, the government makes provision for the housing of autistic children and their families in council flats.
Do you have other children?
Yes, I have four children altogether. The first three before him are normal. The first one is a female, followed by a male and the third is a female. And they are married. We get emotional support from them, but they also have their own problems.
You know that in African culture the baby of the family gets special attention from the older siblings. If he was working as an executive of MTN or as an investment banker in GTBank today, they probably would call him daily and all exchange emails and chat online. So do they relate to their kid brother now?
They try as much as possible to show him love and affection. But they are however handicapped because they cannot really help him in the way he needs to be assisted. It is so difficult to handle. Even as his mother, I find it painful, difficult and stressful. It is not easy at all. You cannot sleep at normal hours. They wake up in the night. When everybody is sleeping that is when they want to play. That is when they want to run around, stamp their feet and sing.
All these years, you have been looking after him. Do you have any concern about the future?
Really I am deeply concerned about what would happen to him after I must have passed on. I am not getting younger - I will be 64 this year. He is 31 now.
Ordinarily, he should have been married by now and probably had a child or two.
He needs to get married, get a job, you know, the ordinary things that people take for granted. But he needs a lot of help to be able to do these. I cannot do it alone anymore. My last thought at night and everyday morning when I open my eyes is this burden I carry in my heart. My heart is aching. I don't know what to do. I see him everyday; I look at him; a handsome young man. And I ask myself, what will be the end? I pray I don't die now, but what if it happens?
What will happen to him? My daughters will not be able to take him in - depending on the disposition of their husbands. To be fair to them, the wife of my first son may not be able to accommodate or stand him. You need specially-trained people who understand autistic individuals to be able handle them. I have done my best this far.
The question remains, what next? But I will not give up on my son. Until my last breathe I will care for him. But the government needs to make appropriate policy to protect and provide for children with autism in Nigeria. The government can no longer play the ostrich on this condition. We need the government to help. This is what is bothering me, because I see some autistic children on the street and people say they are mad. But they are not mad.
They have this condition, but they have not been understood. They don't have parents who can look after them. Rather they throw them on the street to beg for alms. Some are knocked down by vehicles and they die. The females are raped and they become pregnant. The government, corporate bodies and NGOs should come to our aid.