D'BANJ'S KOKO MOBILE PHONES LAND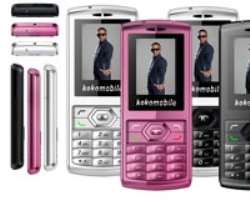 Finally the much talked about phones designed for multi-talented musician, D'Banj have arrived the shore of Nigeria.
The phones were manufactured by Robert & John Ltd in partnership with Mo-Hits and supported by First Bank PLC.
Dbanjby this singular act has  taken the celebrity brand leveraging game to another level he releases the Kokomobile into an eagerly expectant market.
Since the release a few weeks ago the response to the phones has been extremely encouraging as youths and adults clamor for the first Nigerian celebrity branded mobile phone.
The Kokomobile is an ultra slim GSM mobile phone that has all the modern features that positions it as a unique communication and entertainment device. It is certified by local and international regulatory bodies, including NCC, SON, GSMA UK, GSM Exchange,a fifteen months warranty, amongst others.
Robert and John Ltd, the manufacturing partners behind the device have deployed all their expertise and experience gathered from their years in the technology and mobile device industry to produce a mobile phone Nigerians can truly be proud of.
Nigerian mobile phone users expect more from their mobile phone than just voice text and Robert and John Ltd has ensured Kokomobile is packed with all modern features to meet the social and entertainment expectations of Nigerians