Daniel @ 55: Vote Credible Leaders, Archbishop Urges Nigerians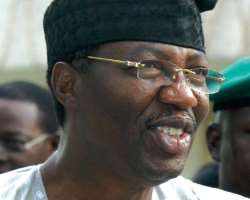 OGUN STATE GOVERNOR GBENGA DANIEL.
ABEOKUTA, April 06, (THEWILL) - The 55th birthday celebration of the Governor of Ogun State, Otunba Gbenga Daniel (OGD) is indeed a celebration of unprecedented and purposeful leadership, the Retired Archbishop of Methodist Church Nigeria, Ilesa Archdiocese, Ogun State, Most Reverend Ayo Ladigbolu, has said, urging Nigerians to vote for credible leaders in the next Saturday election.
While speaking at the sermon session of the birthday thanksgiving service coupled with a public lecture tagged: 'Sustaining Credible State Governance in Nigeria and the Challenge of Leadership', at the Valley View Auditorium, Government House, Abeokuta, Ogun State, Ladigbolu said at this period of transition into a new democratic dispensation, Nigeria, as a country needs politics of ideas and not politics of godfatherism, saying Nigerians should stand up without fear or molestation and vote for credible leaders that would move the nation to a greater position amongst the comity of nations worldwide.
"Nigeria needs politics of ideas and not politics of godfatherism. All of you are aware of the bad press Ogun State has been going through in the past years. Democracy has been on trial in the state and in Nigeria because of the way the press like doing things. Ogun state people must embrace politics without bitterness If our future and democracy would remain secure.
"Nigeria needs more and more home grown leaders. Leaders that know their God. We are gathered here today to celebrate a life of impact and godly upbringing. In his profession and politics, he makes his God famous," he added.
He said the only leaders like OGD who know their God and stood firmly on godly principles could lead the country to the 'Promised Land.'
In his address to the guests, the celebrant commended the people of the state for giving him the opportunity to serve for them for eight years, thanking them for the support and commitment his administration was give.
"In the last few years, we tried to render service to our people. We rendered service to the people in difficult circumstances. I am happy that we have started to sing the song of liberation. I have no regret whatsoever. If I have any opportunity to do it again, I will do it exactly the way we have done it," OGD added.