GBEMISOLA IS THE CANDIDATE TO BEAT IN KWARA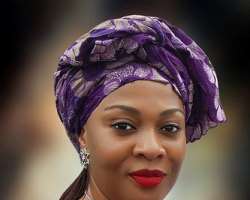 ACPN GOVERNRSHIP CANDIDATE FOR KWARA STATE, SENATOR GBEMISOLA SARAKI.
Ilorin Kingdom is renown to be home of learned people since the ancient time. This informed the decision of Sheikh Usman Dan Fodio to name one of his flag bearers from the kingdom. The area is blessed with revered scholars, most especially Muslims, who have now become stars among the list of states blessed with people of high integrity and excellent degree of western education in Nigeria.
Politically, the kingdom is paramount because it is blessed with political war horses whose contribution to the yearning of its people cut cross every length and breadth of the region. One of them is Alhaji Abubakar Olushola Saraki, the Turakin Ilorin and former Senate Leader of the Second Republic.
Turaki is also endowed with highly industrious children. Among his eloquent children is Senator Rukkayah Gbemesola Saraki, who is born with the desire of selfless service through her parents from whom she imbibed the culture of assisting the needy.
Gbemesola's humane posture and welfarism began right from her days at the primary school where she associated herself with poor children. She assisted them and interacted with the lowly place in the society in spite of her privileged position and by so doing she was loved by all and sundry since her childhood.
This, according to investigations conducted by this reporter, informed her direct access to people and how she handled issues affecting them. Her humility and simplicity has further endeared her to the people and guided her brand of leadership and politics in the society.
I come to know her during her days at the Lower Chamber of the National Assembly (House of Representatives) where she became a force to reckon with when it comes to motions that will improve the living standard of the down trodden. Her contributions in various debates in the chamber made my days. Therefore, I am not surprise to see her becoming a symbol of building new Nigeria between 2003 and 2007 when she was elected by her people to represent them at the Upper Chamber of the National Assembly (Senate).
For instance, her days in the Senate was a welcome development not only to the good people of her senatorial district but to the entire state and nation as a whole. This is because of her engagement with and deployment of several philanthropic gestures such as scholarships to a teeming army of students, most especially the indigent, empowering women with skill acquisitions t enable them become self-reliant in the society, renovation of schools and empowering of youths in order for them to have a sense of belonging. This programme was also targetted at making the beneficiaries become useful and patriotic citizens rather becoming thugs to politicians.
Similarly, her contributions to the people coupled with her desire of making life meaningful to the society had confirmed beyond reasonable doubt that women leadership could spread development, love and care to all and sundry that could move our nation to greater heights. This has further entrenched many Nigerians to belief in women leadership as the way out to various menace facing the society today.
One was therefore not surprised that her people urged her to contest for the governorship of Kwara state. Their reasons are not far fetched. Her high quality representation which impacted their lives and other Nigerians positively. After wide consultation with people of integrity, she succumbed to the offer amicably. After facing serious challenges in her former party, the PDP, she crossed to the relatively known ACPN to actualize the people's desired and serve as a strong opposition contender to her erstwhile party.
Despite the scorching heat of the sun and poverty could not dissuade her supporters in their hundreds of thousands demonstrating solidarity, and entrenching check and balance in Kwara politics, hence the ACPN becoming what CPC is to the PDP in some states. She explained to her teeming supporters that the state has the resources to put smiles on them because it was blessed with both human and natural resources that can go along way in improving their fortunes and that of the state.
She said during one of her electioneering fora that: ``Until when you used your weapon, that is your votes, and voted out those who deny you access to stability, boosting food production, sound economy, health as well as empowerment that will bring solution to the perpetual poverty facing us in the state.'' She informed the crowd that the state as one of the architects of minimum wage to civil servants, when she come to power she is not only paying the said package but she is going to address all the issues that become standing blocks to the welfare of workers in the state.
Gbemisola is therefore is the candidate to beat in the April 16 governorship elections.
Bello Ahmadu Alkammawa writes from Sultan Bello Road, Kaduna +2347030399110.
Disclaimer:

"The views/contents expressed in this article are the sole responsibility of the author(s) and do not necessarily reflect those of The Nigerian Voice. The Nigerian Voice will not be responsible or liable for any inaccurate or incorrect statements contained in this article."
Articles by thewillnigeria.com