GIVE JEGA ANOTHER CHANCE, KEBBI ANPP GUBER CANDIDATE PLEADS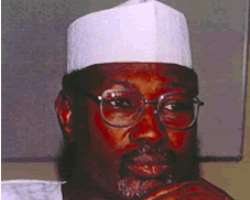 Former Kebbi State deputy governor and All Nigeria Peoples Party (ANPP) gubernatorial candidate, Alhaji Suleiman Argungu, has said that in spite of what looked like a shoddy arrangement, which necessitated the shift in last Saturday's National Assembly polls, to this Saturday, Nigerians should still give the INEC boss another chance.
Speaking in a telephone interview with Daily Sun from his Kebbi base at the weekend, Argungu, who was until recently the National Organizing Secretary of the ANPP, disclosed that even though, as a person, he was skeptical about the process, he still had confidence in the INEC boss, Professor Attahiru Jega, and as such Nigerians should give him the benefit of the doubt.
He argued that his skepticism, stemmed from the fact that virtually every request Jega made, was granted, and wondered why it took the INEC boss that late to realize that the nation could not continue with the exercise, when all had been mobilized for the election.
Argungu was, however, again quick to salute Jega's courage for admitting his lapses, and for crying loud almost immediately that the arrangement his commission had put in place could no longer guarantee the success of the polls. 'if it were other people, they will keep quiet and pretend all was well, when it is not.
'If you recall, it is in this same Nigeria that we went into elections, leaving majority of the ballot materials in South Africa. It took the effort of some media men to bring that information to our knowledge. Jega could as well have kept quiet over this matter, and pretend all was well.
'But if you recall, most of the victories upturned at the tribunal were necessitated by the fact that results were not entered in the INEC's result sheet. So the implication is that, if Jega had gone ahead with the election, he would have prepared the grounds for the upturning of most of the results. So, to that extent, I think we should give him kudos for that.
'However, we are very sceptical about the whole thing. All that Jega requested for has been given to him. And as such he has no reason for not making all the important voting materials available before now. I think, he should have demanded for more time, and shifted this election by two, three or even one week before Saturday, April 2, 2011, and not to wait till the eleventh hour before announcing the postponement.
'Because we have spent a lot of money for logistics, and the postponement will mean bringing out additional money for an assignment we planned for its execution on the day of the National Assembly election. Now all the money we spent Saturday, was a waste. We have to mobilize more money for logistics.' 'For now, nobody can tell what will happen. But the much I can say is that they have assured us that the materials have arrived now. So to that extent, I want us to give Jega a benefit of the doubt. As a person, I still have confidence in him.'
Asked, if going by what former Kaduna governor, Balarabe Musa said, Jega was not working to actualize the alleged PDP's agenda to remain in power beyond May 29, the erstwhile leader of the Integrity Group, that fought the Ume-Ezeoke-led leadership of the party, until it gave way for a new leadership 'I don't think Jega will buy into that kind of project.
I doubt if the Jega I know will be party to that kind of arrangement. For now, let's give him another chance. I still have confidence in him. Let's wait till after Saturday, before we can begin to think otherwise. But for now, I think we should be patient and see what will happen on Saturday. Let's give him a benefit of the doubt.'