ARREST ME NOW, ROCHAS DARES POLICE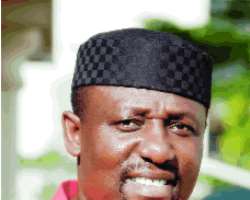 Rochas
The All Progressive Grand Alliance (APGA) governorship candidate in Imo State, Owelle Rochas Okorocha, yesterday, dismissed rumour making the rounds in the state that he has gone into hiding to avoid police arrest, saying that police could locate him anytime.
Okorocha, who confirmed the rumour that the state police command had launched a manhunt against him and other APGA chieftains in a media chat yesterday at his country home, Ogboko in Ideato South Local Government Area of the state said that he was too big to go into hiding.
According to him, 'I have heard about it; it is a confirmed rumour that I am being looked for by the police but quite frankly, I am not in anyway hiding. The police know where they can locate me at anytime, anywhere, anyday. I am too big to hide, I do not know where to hide without being spotted.'
He stated that a barrage of policemen comprising the commissioner of police, director of the State Security Service and brigade commander Obinze with over 50 armed policemen stormed the Lemonde Hotel, Owerri, looking for him.
He disclosed that the security men that stormed the hotel requested to search every guest at the hotel where his Chief of Staff (COS), Prince Eze Madumere who was at the hotel was arrested and detained at the State Central Investigative Department (SCID). He said when he learnt of the arrest of his COS at about 2.45am on Friday, April 1, he ordered his domestic staff to keep the gate leading to his residence open and until 6am, he did not see antbody.
He stated that the arrest of his COS may not be unconnected with the final rally of the party on Thursday, March 31, in Owerri where it was alleged that a vehicle conveying the state Governor, Chief Ikedi Ohakim and the former president, Chief Olusegun Obasanjo was pelted with pure water sachets by angry mobs.
Throwing more light on the incident, the APGA standard bearer said he had called on the inspector general of police (IGP) to find out who ordered the arrest of his COS and others but the police boss denied knowledge of the incident. He said, 'I do know that the people of the state are no longer happy with Ohakim. Nobody informed me that pure water sachets were thrown at any car throughout the rally until I got to my home. '
He warned: 'In Imo State arresting me is like upsetting the political situation in the state. I don't know who is taking that advice from the state government.' He further lamented that the arrest and detention of his COS was illegal since he had been kept in police cell for over five days, saying the party did not intend to blow his arrest out of proportion for the sake of democracy in the state.
'Holding my chief of staff is still confusing. We don't know really what offence the young man committed. I had called the inspector general on police of his arrest, he said he was not aware of it. Ohakim had been boasting that he is going to buy off everybody.' He therefore expressed joy that power was gradually returning to the people in the country stressing that power did not belong to an individual as the people decide who governed them at anytime.
'I have said it that power must go back to the people in Nigeria, it (power) is not for any individual or governor; the people must decide who must govern them.' He stressed that he had no regrets if he was failed for the sake of the people. 'Even if I had to put my hands in chains and go to jail for my people, I will be glad to do so. Let it be known that I cannot hide and I will not hide. Let it be know that I have committed no offence.'
He said that the only thing Governor Ohakim had intended to achieve was to bring the presidency and APGA in the state into a head on collision pointing out that, it was the party (APGA) with its teeming supporters to deliver President Goodluck Jonathan on April 9 presidential election because nobody in the state likes to hear the name Ohakim as it irritated them.