Militant Group MEND Halts Attacks On Oil Installations Temporarily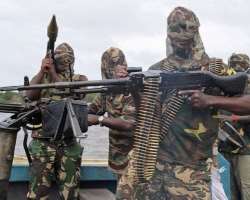 PORT HARCOURT, April 02, (THEWILL) - The Movement for the Emancipation of the Niger Delta (MEND) today said it has temporarily halted its much touted bomb attacks on oil assets in the Niger Delta region, to allow for a safe conduct of the general elections.
It also said it hoped that the government that emerges after the election would consider dialogue and constructive engagement as a path to binging development and justice to the impoverished region.
The fractured main militant group in Nigeria's oil bed made the announcement in a statement by its anonymous Jomo Gbomo a few minutes after Saturday's postponement of the National Assembly elections.
"If we see no sign by the new government for a dialogue at addressing our key issues, we will take that as a green light from the government to commence with our struggle which will be very detrimental to all oil companies operating in the Niger Delta," MEND warned.
It dissociated itself from the Ijaw Youth Council (IYC) Ijaw National Congress (INC) and other Ijaw groups, saying that they do not represent nor speak for the "freedom fighters of MEND which comprises fighters from every tribe in the Niger Delta."
The group blamed President Goodluck Jonathan and the oil companies for what it termed the failure of the amnesty programme initiated by the late President Umaru Yar'Adua.
"They assume giving alms to the youths of the delta will secure installations but the government fails to understand that if the root issues of these agitations are not addressed, we would only be going round circles resulting in more groups springing up and no peace in the Niger Delta." the statement advised.
The militant group has been severely fractured following the detention of its leader Henry Okah in South Africa for treason, and the subsequent arrest of some of his associates including his brother Charles for their involvement in the deadly 50th independence day bombings in Abuja.