Dude Style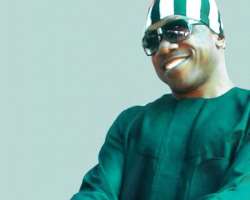 Zakki Azzay, foremost Nigerian musician who is easily identified by his torchlight-carrying mania, spoke to Sunday Mirror on his style.
I like your outfit. What is it called?
It is called Niger Delta, South South. It was made by Kings Apparel, a designer in Magodo GRA.
What is style?
Style is swagger. It is being intelligently different, wearing what suits you and not what is in vogue. If what is in vogue is not good on me, there is no way I will wear it, even if everyone is. I will wear only what is good on me. Aware that I have small K-leg, I would never wear stretch jeans for instance.
What is your own style?
My style is the torchlight and black and white cap. That makes me stand out. Anywhere I go in the world they stand me out.
What is your best colour?
Green
Favourite perfume?
I like cool water and Versace. Any Versace is good for me and Ferrari.
Favourite designer?
I like Zara. I like Zara when it comes for shoes and clothes. I like Paul Smith too.
Describe yourself in three words
Very God-fearing, very hardworking, and very honest
Fashion accessory you cannot do without?
Hmmm … my boxers. I can't do without my boxers.