POLICE WON'T FAIL NIGERIA - AIG FAKAI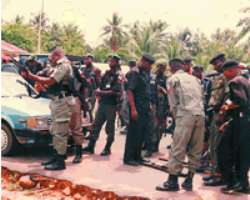 Assistant Inspector-General of Police (AIG) in-charge of Zone 2, Onikan Lagos, Suleiman Fakai, has boasted that his command would not fail Nigerians during and after the elections.
He explained that the Federal Government has given the police enough training and logistics to ensure adequate security during the election.
Recently you organized a lecture in your command. Why was this?
The essence of our lecture is to keep our officers abreast with what is expected of them during the general elections. This is just one of the programmes the Nigeria police is conducting to keep their officers and men informed of what is expected of them during the election. A series of lectures are being conducted in Police Colleges across the country, in Kaduna, Maiduguri, Port Harcourt and Lagos, etc. It is a continuous exercise to teach the officers their roles during the election.
Are you satisfied with arrangements in the areas of welfare and logistics?
Apart from the issue of logistics, I am happy to inform you that government has given us sophisticated equipment for the election. Apart from the lecture, we've equipped ourselves logistically. So, we are fully prepared for the election. We cannot afford to fail. Our major concern are the politicians. If they don't give go ahead to their supporters to make trouble, they won't make trouble. The politicians, police, INEC should work together to make this election a success.
We are fully prepared for the election. For the last one year, the police have been training their personnel. Not only the officers are being trained but also the rank and file. We have been organising workshops. My commissioners of police (CPs) have been directed to gather politicians and brief them properly on what is expected of them during the election. Teargas, non-lethal weapons will be used. Large consignment is given to us. Our allowances have already been received by the IG. We are computing data; so, before the elections, our men will be given their allowances. With welfare package, lecture and logistics, we have no reason to fail. If the politicians play their games according to the rules, we don't even need the police on our polling stations.
Do you have any fear?
We have no fear. We have the experience. We have been conducting elections in the past. So, we knew where we made mistakes and we will make amends. Most importantly, we instructed our men to be impartial and to ensure that we carry out our duties and responsibilities very well.
Would the police carry firearms?
The security agencies, particularly, the police have the conditions where they can use fire arms. It is stated in Police Order Act. Anytime we give directives not to use firearms we should tell them under the condition they can fire. For example, we cannot allow somebody to be shot dead by opponents, and we keep quiet. But with the consciousness of Nigerians, with discipline and sanity, I don't think we have any problem.
There are fears that crime rate has increased. What is going on?
The statistics I am having did not indicate that crime rate is on the increase. However, it fluctuates; it goes up and comes down. I was surprised when I saw some reports that crime rate is on the increase. I think what happened was that crime was mixed with political activities. When cult groups killed themselves, people will start shouting that crime is on the increase. But I will not shy away from telling the truth that there are arms in circulation.
But there is the belief that there are lot of arms in circulation…
There are too many arms in circulation and we are mopping them up. We won't stop at mopping up arms; we are going to use enlightenment strategy to advise cutlass sellers to scrutinise those they are selling machete to. We will not use enforcement but enlightenment. They should watch those they are selling to.
What would you tell politicians?
Appeal is being made to them to shun violence. I don't see any reason one should pay another to kill his or her opponent. If you kill everybody, who are you going to lead? The press should educate politicians that Nigeria will still be there. We have many more years. If you lose this time, you can win some other time.