Jega Postpones NASS Elections; Many Call For His Resignation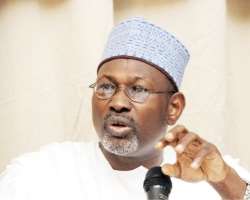 INEC CHAIRMAN PROFESSOR ATTAHIRU JEGA.
SAN FRANCISCO, April 02, (THEWILL) - INEC National Chairman, Professor Attahiru Jaga in a nationwide broadcast has announced the postponement of today's parliamentary elections to Monday, 4th April, 2011, citing the late arrival of voting materials from vendors as cause.
Jega, who took responsibility for the shortcoming also apologized to Nigerians, even as he regretted the poor start of the exercise.
He said the vendor blamed the nuclear crisis in Japan for their inability to deliver materials needed for the elections on time.
In spite of Jega's apologies, many Nigerians have called for his resignation, describing him as a disappointment.
A director with the Nigerian Fellowship of Evangelical Student (NIFES), Mr. Sam Igbokwe, who described the development as a shame said, "Jega should have buried his face in shame'. He said the INEC boss should have tightened all knots with the vendors to avoid the disappointment.
"I am of the candid opinion that Jega should toe the path of honour by resigning his appointment for failing and disappointing Nigerians after taking such a huge amount from to conduct the election," he stated.
Also, the HUMAN RIGHTS WRITERS ASSOCIATION OF NIGERIA, HURIWA, has condemned Jega's decision and called for his replacement with one of the most experienced National Commissioners in the commission to oversee the conduct of all the elections in line with the electoral Act 2010 as amended.
In the same vein, an Abuja based lawyer and civil/human rights advocate, Dame Carol Ajie in a statement said, "Eight days ago up and until yesterday, Jega assured Nigerians and indeed the local and International World that INEC was ready, prepared, willing and able to conduct all elections starting from the National Assembly election slated for today, Saturday 2nd April, 2011.
"He said his human and material resources were all set, only to postpone it a few hours after Saturday's exercise was to commence, till Monday 4th April, 2011, due to the late arrival of result sheet and late arrival of election staff. He did that on a whiff off the cuff unthinking of the implications INEC's decision had for the country and the entire World. He said it no sooner than his publicized speech on Friday 1st April, 2011 titled: "We Can't Afford to Fail".
"Not surprising, since his appointment last year, Academic Professor Jega has failed in every key aspect of his assignment as INEC Boss. I lost faith in him from the day it took INEC several weeks to vet a mere DDC Machine contract. Certainly, Jega lacks the experience and wherewithal to man such a Commission charged with such huge electoral responsibilities on which the well-being of 150 million Nigerians rests."