DEHINDE HARRISON: MY WORKERS DIED AFTER BURYING A MAN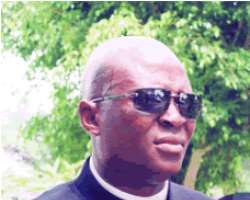 Harrison
The name, Dehinde Omojuwa Harrison, may not ring a bell to an average Nigerian, but many people certainly know about Ebony Funeral, a company that has given him fame and fortunes.
He came into limelight with the burial of the late elder statesman, Dr. Nnamdi Azikiwe, in 1996. Ever since, he has handled many high profile burials in the country.
Harrison told Saturday Sun that the job of an undertaker is simply a humanitarian one, saying: 'If I don't do it, someone else will. We all must go the way of all mortals someday and it's someone that would do that job.'
In this interview, he explained why he went into this line of business. He also told a story of his life, his family and others.
Could you tell us about yourself, most especially childhood?
I was born over 50 years ago. I grew up in Nigeria, on Lagos Island and I am an indigene of Lagos State. I attended schools in Lagos. I studied engineering at the Yaba College of Technology, but along the line, I decided to come into the funeral business and I am still there.
My growing up was not different from the typical Lagos Island upbringing. I grew up like any other child. I grew up with my mother; later I lived with my aunt because I lost my father at an early age. It was fun then growing up on the island with other boys. We knew ourselves, and we hang around. Virtually, we did all the rascality of growing up among boys who live on the Island. At the end of the day, when it was time to grow up, we did and we have all moved on in life. Some of my friends are still here; others are living overseas with their families and a few are in Nigeria.
You live abroad sometime ago. What was the experience like?
I lived abroad for a few years and I did not find it easy. I took it as one of those journeys a man takes when he is growing up. Usually, the belief of every youth is to make it somewhere. Usually, such a person finds out that one is probably making a mistake. I came back to Nigeria after a few years' sojourn abroad and decided to do this undertaking business. It was not really because it started in the family but I started Ebony on my own. Two uncles were into the casket business. My grandmother was also involved as well as my mother because she belong to the Bank-Anthony family. Initially, I wasn't thrilled by the business, despite the fact that I knew every trick in it. However, as God would have it, after my sojourn abroad and working for several people, I decided to do this on my own.
What motivated you into the undertaking business?
Odunlami Street, where I grew up, had always been synonymous with caskets and while growing up and playing pranks, we jokingly referred to it as 'Casket Street.' When I also travelled, I saw how funerals were packaged, different from what we did here in Nigeria. Before most of us ventured into this business, people who lost loved ones used to go through stress to organise funerals. I saw the way it was done abroad and I told myself that I could do this here. So I started, initially, with caskets. That was about 26 years ago and graduated to what we are doing now.
Could you tell us about Ebony funeral?
Since the burial of Dr. Nnamdi Azikiwe in 1996, Ebony has become a household name. I owe our success to my staff and family because of their dedication and mine as well. If I don't have dedicated staff and family who love what am doing, there is no way I would have made it. If I have an unsettled home, it would not be possible to give my best. So I owe all of them to their understanding and support. That is the secret behind our success. We work like a family at Ebony and we do our customers' jobs diligently. We take the burden of their relations' funerals off their shoulders. Even after burial, we still interact with relatives of the dead person, to let them realise that life has to continue after burial.
You are reputed to have handled the burial of Dr. Azikiwe. How did you land the job?
I think the then head of state set up a burial committee and asked them to look for the best among funeral undertakers that would handle the job of that magtitude. When they came into my office, I never knew that they were making arrangement for Zik's burial. I told them what I could do and they saw what we had on ground. They left. Another set also came. Thereafter, I was invited to Abuja. That was when I realised that they were making arrangements for Zik's burial. I never knew the funeral was for Zik initially. In Abuja, I told them what we could do and how we could organise a good burial. Thank God, I was chosen and we did the burial to the best of our ability and after the burial we got a thank you letter from the then head of state.
Is your family involved in your line of business?
Yes. My kids are fully involved in this business. Though they are in school, each time they are on holiday, they come in and participate in what we do. My wife has always given me her support and blessings.
You lived abroad. Where would you prefer to raise your kids, in Nigeria or abroad?
I am a Nigerian and was trained here; so it is better to train a child in Nigeria. I would rather train my children here because I was trained here and I don't think I am a bad person or bad product of my parents or this country. I would want to do the same to my children. I prefer Nigeria because there is discipline and good education. For now, whatever I can do to give my children the best education, I am doing it. They could, on their own travel abroad for their master's degree in future, if they want. To give good upbringing, discipline, imbibe cultural values and traditions, I prefer raising children in Nigeria.
What do you like or dislike about the undertaker business?
Death of people in their prime makes me sad. Anytime such news comes to me, I feel bad and depressed. However, I like news of the death of the aged, people who die at 80 0r 90 years.
How do people see you as an undertaker?
People have accepted morbid business in Nigeria, just as they have accepted that death is inevitable. Someone has to take care of it. Gone are the days that you put family members, in-laws into hardship because you want to bury someone. In some places, in-laws are called upon to carry casket, when they are not trained to do so. Now, we take care of everything that has to do with funerals. Now members of the family do not have to come out of their homes until the funeral day. I remember, in the past, when a man dies, his widow would, in addition to the pain of the loss, get involved in planning burials. Now, you can't see that.
In your line of business, have you had encounter with ghosts?
I would not know anything called ghost because I don't believe in it. I have not encountered any, because by the time I get home very late in the night, all I want to do desperately is to shower and sleep on my bed. When my head touches my pillows, I sleep. I work tirelessly all day, supervising every thing, from administration to rehearsals. It's just the African belief, but it's what you allow to occupy your mind that would always, either work for or against you. If one has a strong Christian background, the way I do, there is no need to believe in things like that, because God is always sufficient for us. Moreso, burying the dead is a humanitarian job, because if we don't do it, others will; it may not be professionally done.
Have you ever had any bad experience?
There is no business that does not have its bad sides or shortcomings, but I think that the only time I had some nasty experiences was when we had accident while coming from a burial at midnight. Some of my staffers died and I was deeply shaken to my roots. But I quickly overcame the shock because I had to be strong for others. We have had accidents since then. Each time it happens, I tell myself that it is all about life and that it has happened to others before us.
Which is your most challenging burial?
Every burial we handle is always challenging and I don't differentiate or classify burials at all because for every burial there is always a challenge. And anytime we overcome the challenge, our job is done. That also shows that we are good undertakers.
Some people say you only handle expensive burials…
We do not decide for families what they want to spend. We only tell them what we can take to do the job. They know what they want and how much they want to spend. Ours is to showcase what we can do, because at Ebony, it's one-stop shop for burials. We give everything pertaining to funerals. In any case, if wishes were roses, I think I would love to handle the burial of anyone who is above 85 years and even do it free. Most times, the families come smiling when they want to handle their funerals.
Who is your role model?
I have lots of them, like Prof. Wole Soyinka, Nelson Mandela and Bill Clinton. Those are people who inspire me by their various activities and how they have helped to transform human lives.
How do you spend your leisure?
I spend my leisure with my family and also hang out with friends sometime. At other times, I go to the beach to appreciate nature.
How would you want to be buried?
I think my family and staff would decide that because if I call them or tell them how I want to be buried, I am telling them that they are not competent enough to know what I want or like. Even if I tell them what I want, they may decide to change it because of trend or fad. I leave it to them to decide.
For what would you love to be remembered?
I don't know what I would love to be remembered for. I think that people have to decide that, whether they want to remember me as an undertaker or a gentleman. To be frank, I don't know how people see me. People could be deceptive. They may see you and smile at you and pretend to like you, whereas they have different feelings about you. I just want to be remembered as someone who came and rendered an invaluable service to humanity. It is now left for them to classify where I belong and how they feel.