Disgraced Pastor Odulele Makes Sex Offenders Register.....And 8months in Jail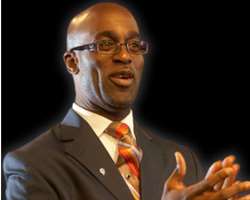 Huhuonline.com can disclose that disgraced Nigerian, UK based pastor, Albert Odulele, who pleaded guilty to sexual molestation of young boys, has been sentenced to eight months in jail. According to the case progression personnel at Woolwich Crown Court, Dr Albert Odulele was sentenced
  to 8 months on the first count, and 6 months on the second.
The disgraced pastor will serve both sentences simultaneously, and will therefore spend a maximum of 8 months in prison.
Beside the jail time, Dr Albert Odulele will appear in the sex offenders register for five years.
The UK-based Nigerian pastor was earlier accused of sexually assaulting former members of his congregation at Glory House International, London.
He later admitted the charges at Bexley Magistrates Court, which included the assault of a 14 year-old boy, and a 21 year-old man.
However, his twin brother Ola-Vincent Odulele, (formerly Pastor Taiwo Odulele) has taken over the affairs of Glory House International.
Prior to his brother`s ordeal Pastor Vincent worked as an associate pastor and next in line in the church's hierarchy .